All About Love: New Visions (Hardcover)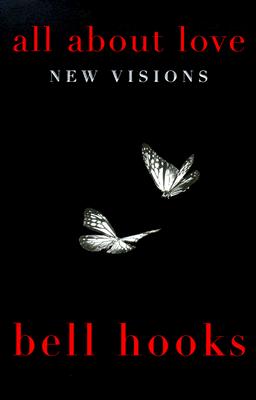 Staff Reviews
---
In "All About Love: New Visions," hooks writes 13 essays on different facets of love so that we as a nation can "return to love." Her words force us to leave imprecision and half-hearted sentiments behind in favor of truer meaning and fulfillment. To do so, she shows us, we must really break down the narratives we've held for so long. That's no easy task but I found hooks' dedicated commitment to understanding love both inspiring and affirming. Although certain segments of this book (namely the spirituality ones) felt a bit vague and questionable for me, I really enjoyed it. It's an accessible piece about one of my favorite topics and it both validated some of my own philosophy and pushed my thinking in new directions. If you're interested in an insightful look into what love is/isn't and how it serves as a life-giving force, you'll find some gems here!
— Manasa D., bookseller
Description
---
All About Love offers radical new ways to think about love by showing its interconnectedness in our private and public lives. In eleven concise chapters, hooks explains how our everyday notions of what it means to give and receive love often fail us, and how these ideals are established in early childhood. She offers a rethinking of self-love (without narcissism) that will bring peace and compassion to our personal and professional lives, and asserts the place of love to end struggles between individuals, in communities, and among societies. Moving from the cultural to the intimate, hooks notes the ties between love and loss and challenges the prevailing notion that romantic love is the most important love of all.
Visionary and original, hooks shows how love heals the wounds we bear as individuals and as a nation, for it is the cornerstone of compassion and forgiveness and holds the power to overcome shame.
For readers who have found ongoing delight and wisdom in bell hooks's life and work, and for those who are just now discovering her, All About Love is essential reading and a brilliant book that will change how we think about love, our culture-and one another.
About the Author
---
Bell Hooks is a cultural critic, feminist theorist, and writer. Celebrated as one of our nation's leading public intellectual by The Atlantic Monthly, as well as one of Utne Reader's "100 Visionaries Who Could Change Your Life," she is a charismatic speaker who divides her time among teaching, writing, and lecturing around the world. Previously a professor in the English departments at Yale University and Oberlin College, hooks is the author of more than 17 books, including All About Love: New Visions; RememberedRapture: The Writer at Work; Wounds of Passion: A Writing Life; Bone Black: Memories of Girlhood; Killing Rage: Ending Racism; Art on My Mind: Visual Politics; and Breaking Bread: Insurgent Black Intellectual Life. She lives in New York City.