The Start-Up Guide for Opening, Remodeling & Running a Successful Beauty Salon (Paperback)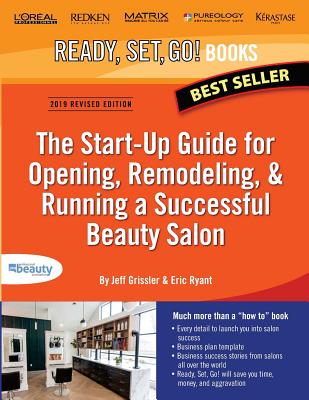 $39.95
Email or call for price.
Description
---
Updated for 2019
Book endorsed by the Professional Beauty Association (PBA) and Modern Salon magazine.
Finally a book that helps salon owners to open, remodel, and run a successful business Using this Amazon Best Seller as your guide, put your dreams of owning or remodeling a salon on the success track and learn operational tactics that would otherwise take you years to master Opening a salon or remodeling your existing business takes a lot more planning and money than most people would ever imagine. Ready, Set, Go is packed with the steps, tips, ideas, and strategies to make your salon a success. Whether you already own a salon or you have the glimmering thought of advancing your career in this direction, this book is for you. We will help you to:
Visualize, plan, and organize your new business venture.
Assess and pick the right location and negotiate your lease.
Select your legal and financial team and set up the business and financial structure for your salon.
Design a salon that fits within your budget and set up a successful working relationship with your contractors.
Find the money or capital that you need to finance your business venture and open your doors.
Hire the right people to staff your salon.
And, everything else you will need to own and operate a profitable salon
If you want to visualize award-winning salons, creative designs, and truly build the salon of your dreams that will "Wow" your customers, take a look at The Modern Salon In Pictures another book by Jeff Grissler. Guaranteed to pave the way to salon success.
If you're on a strict budget and have no idea about what type of layout, design and look you want for your salon take a look at another Best Selling and Award Winning book by Jeff Grissler and Ready, Set, Go Publishing. The Salon Building Bible is the most comprehensive salon book ever produced. This book has 16 different salon plans, construction costs, salon furniture costs broken down to the penny for each salon plan in the book. Why make mistakes and run over budget on the most important part of opening your business. Let Ready, Set, Go lead you to financial success.