We Should Not Be Friends: The Story of a Friendship (Large Print / Paperback)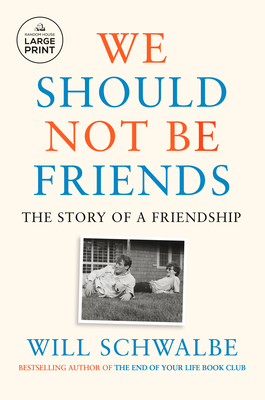 Find us on Bookshop.org to order!
About the Author
---
WILL SCHWALBE has worked in book publishing (currently as an editor at Macmillan); in digital media; and as a journalist, writing for various publications, including The New York Times and the South China Morning Post. He is the author of Books for Living, The End of Your Life Book Club, and coauthor, with David Shipley, of Send. He lives in New York.
Praise For…
---
"We Should Not Be Friends offers a rare view of male friendship, which has received far less attention than platonic closeness between women . . . Seasoned editor that he is, Schwalbe knows how to structure a book for maximum effect . . . We Should Not Be Friends succeeds, to a large extent, because Maxey comes across as a great character. He also proves himself to be a warm and devoted friend. This book is Schwalbe's payback, his way of expressing his gratitude by using the tools with which he is most comfortable." —NPR

"Moving . . . salted with Schwalbe's well-established literary intelligence and a palpable empathy." — The New York Times Book Review

"Schwalbe has an uncanny ability to use his personal experience as a springboard for universal truths . . . This memoir will convince you to pick up the phone and check in on that old friend you're always thinking of." —The Los Angeles Times

"A charming read with plenty of surprises in store for the two principal characters . . . We Should Not Be Friends celebrates not only an unlikely friendship, but the strange turns a life can take." —The Wall Street Journal

"An unexpected page-turner that may inspire readers to reach out to old friends . . . This delicate memoir tracks their intermittent friendship, from initiation into one of Yale's secret societies to thirty-five-year college reunion. Schwalbe overcomes the perspectival limitations of memoir-writing by allowing himself access to his friend's thoughts, notably in rhapsodic contemplations of the sea surrounding the Bahamian island where Maxey ultimately finds purpose." —The New Yorker

"Written like a true friend . . . We Should Not Be Friends really shines when it delves into the ups and downs of its main characters." —The San Francisco Chronicle

"A dramatic reminder of the importance of being open to friendships with others whose lives, backgrounds, and life experiences have been markedly different from our own." —Finger Lake Times

"We Should Not Be Friends is as funny, warm, brutally honest and entertaining as it is profound.  It's unlike any memoir I've ever read.  Maxey and Schwalbe show us that our hearts are far bigger and more accommodating than we ever would have imagined." —Louise Penny, best-selling author the Chief Inspector Armand Gamache novels

"What I loved about Will and Maxey was watching their capacity for friendship grow as Life came at them, making them bigger and wiser human beings along the way.  At the end of the book, I found myself turning the title around. Why wouldn't they be friends?" —Martha Teichner, author of When Harry Met Minnie

"In this searching, tender, insightful, and wise memoir, Will Schwalbe traces an altogether unlikely friendship through the triumphs and vicissitudes of adult life. Reading this beautifully written and generous book, you will find yourself thinking of your own friendships and the greatest gifts we can give one another: listening deeply and taking the risk of becoming — and offering — our true selves." —Dani Shapiro, best-selling author of Inheritance

"One of the most important—and noble—human qualities is our ability to bond with people with whom we have absolutely nothing in common. It's pure fraternal love, entirely for its own sake. Will Schwalbe has written a gorgeous book on exactly this topic . . . what a pleasure to read about a human trait that might one day save, rather than destroy, the human race." —Sebastian Junger, best-selling author of The Perfect Storm

"We Should Not Be Friends focuses on the improbable, lifelong, life-changing—dare I say life-saving—bond between two men who met by chance in college with nothing in common and everything to teach one another. Here is a deeply compelling story that is uniquely their own—yet grows throughout the book to contain all the trials of finding one's way in an America that is, like these two men and their unlikely but important connection, constantly changing. This marvelous, warm, life-affirming book gave me a fuller understanding of the friendships that have sustained my life, and will make readers fiercely appreciative of their own chosen family. So many pages throughout human history have been devoted to romantic love, how wonderful to read a book about that other massively important emotion, the love of friendship." —Isaac Fitzgerald, best-selling author of Dirtbag, Massachusetts

"An affecting, rewarding story of an unlikely friendship that, against all seeming odds, has endured . . . Schwalbe candidly recounts misreadings of intention, the weathering of life events and illnesses, and finally, nearing 60, their accommodations to each other . . . Across decades, both men have taught each other tolerance for difference." — Kirkus Reviews