Lying in the Deep (Hardcover)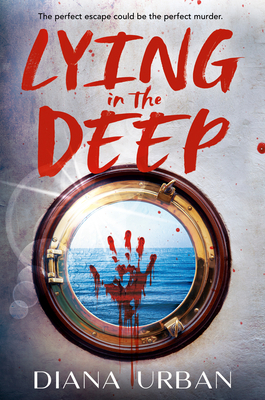 Description
---
A juicy thriller of jealousy, love, and betrayal set on a Semester at Sea-inspired cruise ship, with a diverse cast of delightfully suspicious characters who'll leave you guessing with every jaw-dropping twist.

After being jilted by her ex-boyfriend and best friend, Jade couldn't be more ready to embark on the adventure of a lifetime—11 countries in 4 months, all from the luxurious Campus on Board ship—and to wedge an entire globe between her and the people who broke her heart.

But when Jade discovers the backstabbing couple are also setting sail, her obsession with them grows and festers, leading to a shocking murder. And as their friends begin to drop like flies, Jade and her new crush must race to clear her name and find the killer they're trapped at sea with….before anyone else winds up in body bags.

Perfect for readers of Natalie D. Richards, E. Lockhart, and Karen McManus!
About the Author
---
Diana Urban is an author of dark, twisty thrillers, including All Your Twisted Secrets (HarperTeen) and These Deadly Games (Wednesday Books). Her novels have been published internationally, and she'll be featured in the Firsts and Lasts anthology (Penguin Workshop, 2023). When she's not torturing fictional characters, she freelances in content writing and digital marketing. She lives with her husband and cat in Boston and enjoys reading, playing video games, fawning over cute animals, and looking at the beach from a safe distance. Visit her online at dianaurban.com.
Praise For…
---
"Great chemistry and entertaining, nonstop turns of plot steer the ship." —Booklist

"Psychologically and emotionally stirring." —Kirkus Reviews

"This cleverly plotted mystery and its earned, complex solution....boast numerous exhilarating twists and red herrings." —Publishers Weekly

"A twisted tale of betrayal, heartbreak, and revenge, Lying in the Deep is shocking from the very first page. As gory as a slasher and as fun as a comedy, this book is a must-read for thriller fans." —Jessica Goodman, bestselling author of The Counselors

"Diana Urban is the Agatha Christie of today's YA audience. Lying in the Deep had me utterly engrossed from the jaw-dropping prologue to the final murderous twist. An absolutely thrilling and romantic read all the way through, and I can't recommend it highly enough." —Jessica S. Olson, author of A Forgery of Roses

"Whatever your age, this twisty and surprising thriller—with gorgeous settings, swoon-worthy romance, toxic friendships, and a surprise around every corner—will keep you turning the pages as fast as you can. This is storytelling at its best!" —Hank Phillippi Ryan, USA Today Bestselling Author of Her Perfect Life