Cook As You Are: Recipes for Real Life, Hungry Cooks, and Messy Kitchens: A Cookbook (Book)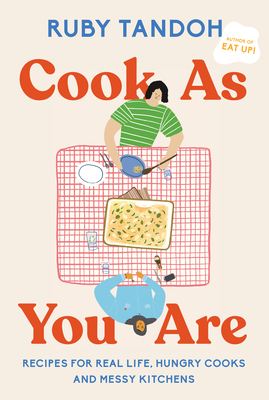 Find us on Bookshop.org to order!
Description
---
A BON APPETIT BEST BOOK OF THE YEAR • A cookbook for the real world: a beautifully illustrated, inclusive, and inspiring collection of delectable and doable recipes for home cooks of all kinds that shows you don't have to be an aspiring chef to make great food—or for cooking to be a delight. Just cook as you are.

"Not simply a recipe book, but a warm invitation to relax into and enjoy the experience of cooking and eating. Ruby Tandoh offers understanding, encouragement and completely glorious food." —NIGELLA LAWSON, author of Cook, Eat, Repeat

From last-minute inspiration for feeding an entire family to satisfying meals for just one person, easy one-pot dinners to no-chop recipes, in these pages Ruby Tandoh shares a feast of homey, globally inspired dishes, such as:

•Carrot, Lemon and Tahini Soup
•Smoky Chicken, Okra and Chorizo Casserole
•Gnocchi with Harissa Butter and Broccoli
•Lightning-Quick Asparagus and Chili Linguine
•Tofu and Greens with Hot and Sour Chili Sauce
•Rosemary Baby Buns
•Lemon Mochi Squares

A no-nonsense collection of more than 100 accessible, affordable, achievable—and, most importantly, delicious—recipes (plus countless variations), Cook As You Are is an essential resource for every taste, every kitchen, and every body.
About the Author
---
RUBY TANDOH is an author and journalist who has written for The New Yorker, The Guardian, Vittles and Elle. A finalist on The Great British Bake Off in 2013, she has written Eat Up!, a book about the pleasure of eating, as well as three cookery books, Crumb, Flavour, and Cook As You Are.
Praise For…
---
One of the Best Cookbooks of the Year: The New York Times, The Washington Post, Boston Globe, San Francisco Chronicle, Epicurious, and Bon Appetit

"As soon as I started reading and cooking from Ruby Tandoh's practical and generous new book, Cook As You Are, I wanted to buy a copy of it for just about everyone I know: my 84-year-old friend who lives alone and cooks most nights, my cousins in their 30s who just had a baby, my 17-year-old niece applying to college. Ms. Tandoh is a warm and deeply considerate recipe writer who understands that putting dinner on the table is a daily necessity that should bring you the maximum amount of joy for the least amount of work." —Tejal Rao, The New York Times

"Not simply a recipe book, but a warm invitation to relax into and enjoy the experience of cooking and eating. Ruby Tandoh offers understanding, encouragement and completely glorious food." —NIGELLA LAWSON, author of Cook, Eat, Repeat

"Tandoh has a rare talent of putting together common words in the most uncommon and beautiful way. I can make a fine evening just reading her headnotes, chapter introductions and interstitial stories . . . She meets the home cook, be they accomplished or novices, with hours to putter around the kitchen or with mere minutes to spare, on their own terms." —Olga Massov, The Washington Post
 
"Ruby Tandoh has cultivated a distinctly reassuring voice: one that balances the sensorial beauty of food with an understanding of the many reasons why it can make us anxious, too . . . Cook as You Are is thoroughly steeped in empathy for the reader and whatever material and emotional resources they're able to bring to the act of cooking." —Soleil Ho, San Francisco Chronicle

"Cook As You Are was the cookbook I kept , turning to when I was supposed to be trying recipes from others . . . Tandoh is a skillful writer . . . The recipes are so spring-loaded with inspiration that each chapter has an included reading list, from Fresh India to The Hobbit. Though flavors from Tandoh's British and West African roots make appearances (see her Ghanaian groundnut soup), there's an exciting variety of dishes from all over the globe." —Alex Beggs, Bon Appetit

"A celebration of people as much as delicious food. Ruby Tandoh writes with a cooks-first mind-set, curating a mouthwatering collection of recipes that are as inclusive as they are attainable." —VALLERY LOMAS, author of Life Is What You Bake It, winner of The Great American Baking Show

"Throughout her career, Ruby Tandoh has called out wellness culture and elitism in food media, and has consistently advocated for marginalized communities. Her new cookbook, Cook As You Are, shows that same dedication of practicing her principles and making cooking accessible to everyone—not just the elite . . . Filled with easy, affordable, and accessible recipes, this is the book I turn to when I need dinner in a pinch. And usually, that dinner is soba noodles with fermented black beans and broccoli." —Epicurious

"For my money, Tandoh is not just an inventive and exciting recipe developer, she's one of the most articulate and expansive food writers out there right now. She deeply understands the emotional complexities of eating and the realities of time, ability and budget constraints, and she will actively help you make a great meal whether you're working with garlic cloves or powder, fresh lemon zest or bottled juice. I love this book like I have loved few others of the past few years, in no small part because Tandoh is so effortlessly judgement-free." —Mary Elizabeth Williams, Salon

"In this soulful collection of recipes, Ruby Tandoh nourishes us physically, mentally and intellectually. Cook As You Are brims with easy, approachable everyday fare, but also exists as a blueprint for what all cookbooks should strive to be—a space that is inclusive, thoughtful and accessible to all. With a no-nonsense, egalitarian approach to ingredients, and enticingly cookable recipes that offer a plethora of variations and substitutions, Tandoh liberates the home cook, empowering them to be exactly the type of cook they want to be." —HETTY LUI McKINNON, food writer and award-winning author of four cookbooks, including To Asia, with Love

"The book is an exercise in creating room for every kind of recipe and every kind of cook . . . If anything is radical, it's the way in which Tandoh, who has written a thoroughly empathetic cookbook, conceives of breaking away from the form's constraints." —Eater

"Ruby Tandoh once again shows us what eating can be instead of what it is—something usually defined by the white gaze using white hands to signpost for us what is trendy, culturally relevant and acceptable. As a gifted guide through the journey of her own adventures as a cook, Tandoh makes her identity and experiencea central focus point for what she is sharing here—a gorgeous selection of recipes that have risen from her lived experience of being of and in the world as a human consuming her culture and experience—something we all do every day but less deftly explain." —ZOE ADJONYOH, author of Zoe's Ghana Kitchen

"Great recipes, of course, but also a wealth of modern kitchen wisdom. Practical, straight-talking, endlessly inspirational." —NIGEL SLATER, author of The Kitchen Diaries