The Red Truck Bakery Farmhouse Cookbook: Sweet and Savory Comfort Food from America's Favorite Rural Bakery (Hardcover)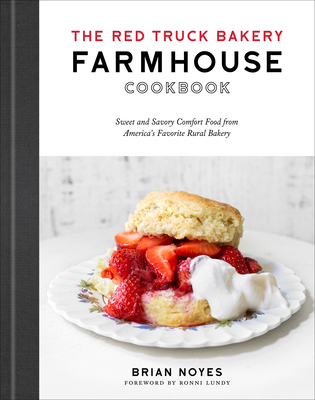 Find us on Bookshop.org to order!
Description
---
95+ recipes for breakfast, lunch, dinner, and dessert from the award-winning Red Truck Bakery near Virginia's Shenandoah Valley, bringing the comfort and charm of the farmhouse where the bakery started into your kitchen

"Original and highly personal, The Red Truck Bakery Farmhouse Cookbook is a joyful love story to many comfort foods."—Jacques Pépin, chef and author
 
"If a cookbook could be a page-turner, this is the one! Brian not only knows how to create comfort in spades, but he writes both the sweet and savory recipes in such a way that you feel like you're part of those five generations who inspired these vittles."—Carla Hall, chef and author

ONE OF THE BEST COOKBOOKS OF THE YEAR: Garden & Gun

Brian Noyes, founder of the beloved Red Truck Bakery in Marshall, Virginia, and author of the Red Truck Bakery Cookbook, presents more than 95 all-new, comforting recipes celebrating ingredients and traditions from the bakery's home on the edge of the Shenandoah Valley and the Blue Ridge mountains. With small-town charm, an emphasis on local, seasonal produce, and country comfort inspiration from the 170-year-old farmhouse where the bakery began, The Red Truck Bakery Farmhouse Cookbook features Brian's favorite savory recipes and old-time classics from family, friends, and the bakery archives. This is the food that Brian cooks at home as well as for the bakery's thousands of customers nationwide—plus recipes for favorite Red Truck Bakery dishes that have not been shared before.

From delightful lunch and dinner options like Potato & Pesto Flatbread, Corn Crab Cakes with Jalapeño Mayonnaise, Mid-July Tomato Pie, Pork Tenderloin with Rosemary and Blueberries, and Sweet Potato and Poblano Enchiladas, to knockout desserts like Lexington Bourbon Cake, Virginia Peanut Pie, and Caramel Cake with Pecans (which Garden & Gun magazine called "the perfect Southern dessert"), the recipes in The Red Truck Bakery Farmhouse Cookbook are what we are all craving—unfussy, homey, Southern-leaning dishes that focus on local produce but don't shy away from decadence. And for those who are eating vegetarian or vegan, there are plenty of plant-based options, like a vegan and gluten-free Coffee Cake, Carrot & Leek Pot Pies, Mushroom-Ricotta Lasagne with Port Sauce, and the Bakery's beloved "Beetloaf" Sandwiches.

True to the spirit of the Red Truck Bakery, the recipes in the Red Truck Bakery Farmhouse Cookbook deliver unfailingly delicious comfort all year round.
About the Author
---
Brian Noyes is the founder of the Red Truck Bakery in Marshall, Virginia, and the author of the Red Truck Bakery Cookbook. Brian trained at the Culinary Institute of America (CIA) in Hyde Park, New York, at King Arthur Baking in Norwich, Vermont, and at L'Academie de Cuisine near Washington, D.C. While he was the art director at The Washington Post and Smithsonian magazines, Brian baked pies and breads on weekends in his Virginia Piedmont farmhouse and sold them out of an old red truck he bought from designer Tommy Hilfiger. The bakery now has two destination locations in historic buildings, ships thousands of baked goods nationwide, and has earned accolades from Oprah Winfrey, Barack Obama, and many national publications. Brian is an advisor to the Jacques Pépin Foundation and a member of the Southern Foodways Alliance and the James Beard Foundation. He has written for The Washington Post, Smithsonian, Preservation, Taste of the South, The Local Palate, and Garden & Gun.
Praise For…
---
"Brian makes the food I crave. His recipes make you want to cozy up in a big chair and enjoy every sweet and savory bite. I'm off to pop some Farmhouse Muffins into the oven!"—Cheryl Day, author of Cheryl Day's Treasury of Southern Baking

"Everything always seems to taste better cooked in a farmhouse kitchen. With this delightful new book, Brian Noyes celebrates our region's culinary riches and captures the true spirit of hospitality. As you cook your way through these pages, the intoxicating aromas wafting from your kitchen will transport you to the country farmhouse of your dreams."—Patrick O'Connell, chef proprietor, The Inn at Little Washington

"It is the Red Truck Bakery that comes to mind when I ponder the perfect bakery: honest, simple, delicious food, sprinkled with love and kindness. I have spent many a night dreaming about their legendary Lexington Bourbon Cake. Now you have that recipe in your hands, along with all the other comforting dishes that will transport your kitchen into the bakery of your dreams."—Edward Lee, chef and author of Buttermilk Graffiti

"A salvation for the home cook: Superb bakery fare rounds out what was missing from the first book (Hello, Peach Hand Pies!), but it's the savory contributions that got this city boy rolling up his jeans. From the Mushroom Tartines to the Quiche Lorraine to the Brunswick Stew, we finally get the Red Truck in all its glory, pulling up to our own kitchens."—Andrew Zimmern, traveler, chef, writer, and teacher

"When I think of Brian Noyes, I think of a fun, warm friend who is always telling great stories and whipping up good food. And lucky for us, The Red Truck Bakery Farmhouse Cookbook wraps all of these attributes into one beautiful package."—David DiBenedetto, editor in chief, Garden & Gun

"When you can outbake my great grandmother JoJo, you've reached major hero status. In our collaboration, Brian surpassed my fond memories of her delicious creations."—Billy Reid, fashion designer

"Brian Noyes's collection of joyful recipes is like flipping through a family recipe box full of comforting dishes that have been passed down through generations, with a touch of Southern charm. This is a book that readers can come back to time and time again."—Pati Jinich, chef, cookbook author, and host of PBS's La Frontera

"Brian Noyes blends an ex–art director's aesthetic passion, a busy commercial baker's precision, and a modern Southern cook's drive to freshen up the classics. His recipes not only look like a million bucks, they're also the best you've ever tasted."—Matt Lee and Ted Lee, authors of The Lee Bros. Charleston Kitchen

"A story of rural renaissance and a document of creative life in a country farmhouse, this is also a really great cookbook, with a recipe for a bourbon-and-crystallized-ginger cake so good that you will lie and tell everyone Great Aunt So-and-So handed it down to you."—John T. Edge, author of The Potlikker Papers

"I felt as if I won the lottery when the Red Truck Bakery opened near my farm. Now we have The Red Truck Bakery Farmhouse Cookbook to inspire us to make delicious dishes that Brian has created and collected for breakfast, lunch, dinner, and dessert." —Mary Chapin Carpenter, singer and songwriter

"As a professional eater but bush-league cook, I am thrilled that Brian's new book takes me by the hand to create Red Truck Bakery farmhouse treasures well above my natural culinary skill set. I'll soon be bringing peach hand pies, watermelon salad, and banana pudding to tailgates and parties to let friends know I really can cook!"—Michael Stern, author of Roadfood

"There is supreme artistry to Brian Noyes's design and packaging and an absolute poetry to everything he cooks. This book is a gift and the divining rod to some of the South's greatest pleasures."—John Currence, restaurateur and author of Big Bad Breakfast

"Brian's cookbook is a feast for the eyes—filled with inspired and approachable recipes that have me excited to fire up the oven. A blue ribbon–worthy book (just like his blueberry pie with ginger)." —Carrie Morey, author and owner of Callie's Hot Little Biscuit