Mush-A-Roo: The Adventures of Seven The "Dog Sledding" Kangaroo (Hardcover)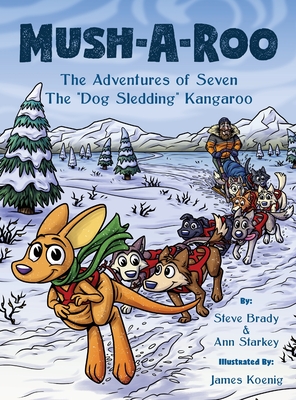 Description
---
This kangaroo's BIG feet always got her into trouble, but when she visits Alaska, they'll take her on a BIG adventure When Seven the kangaroo joins a dog-sled team, she discovers that her differences make her special. Can Seven learn to accept herself in time to help her team win the BIG race? Find out when you read Mush-A-Roo
A wonderful story about accepting our differences, starring a kangaroo and a parrot.
Would you like to read a story set in beautiful and pristine nature?
Would you like to meet many kind and funny animal friends?
Would you like to read a story where the spirit of teamwork and friendship overcome all difficulties?
If you've answered yes to at least one of these questions, this book is for you.
In this book you will find:
A kangaroo
A parrot
Many dogs
A lot of friendship
Healthy and fun competition
Beautiful, untouched nature
An exciting story that will leave you breathless
And much more...
If you want to read a new story that will soon become a classic, you have only to buy this book, now.