The Pill Book (15th Edition): New and Revised 15th Edition (Mass Market)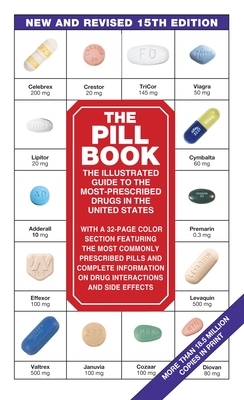 Find us on Bookshop.org to order!
Description
---
No home should be without this book!

THE CONSUMER'S GUIDE TO PILLS—COMPLETELY REVISED 15TH EDITION FOR 2012 WITH MORE THAN 20 IMPORTANT NEW DRUGS AND DOZENS OF NEW BRAND NAMES
 
For more than three decades, millions of consumers have trusted The Pill Book to provide official, FDA-approved information on more than 1,800 of the most commonly prescribed drugs in the United States, with guidelines from leading pharmacists. Each drug is profiled in a concise, readable, easy-to-understand entry, making The Pill Book the perfect reference when you have questions about the medications your doctor prescribes. Inside you'll discover
 
• generic and brand-name listings that can help you save money
• what each drug is for, and how it works
• usual dosages, and what to do if a dose is skipped
• side effects and possible adverse reactions, highlighted for quick reference
• interactions with other drugs and food
• overdose and addiction potential
• alcohol-free and sugar-free medications
• the most popular self-injected medications and their safe handling
• information for seniors, pregnant and breast-feeding women, children, and others with special needs
• cautions and warnings, and when to call your doctor
• 32 pages of actual-size color photographs of prescription pills
About the Author
---
Educated at Columbia University, Dr. Harold Silverman has been a hospital pharmacist, industry consultant, author, and educator for more than 35 years. Dr. Silverman's professional objective is to help people understand why medicines are prescribed and how to get the most from them.

In addition to The Pill Book, Dr. Silverman has also authored The Women's Drug Store, The Pill Book Guide to Safe Drug Use, The Consumer's Guide to Poison Protection,and Travel Healthy. He is also a co-author of The Vitamin Book: A No-Nonsense Consumer Guide and The Med-File Drug Interactions System.

Dr. Silverman has contributed more than 70 articles, research papers, and textbook chapters to the professional literature, including The Merck Manual of Medical Information, Home Edition. He has taught pharmacology and clinical pharmacy at several universities and has won numerous awards for his work. Dr. Silverman resides in the Washington, D.C. area with his wife, Judith Brown, and their son Joshua.