Invisible Darkness: The Strange Case Of Paul Bernardo and Karla Homolka (Mass Market)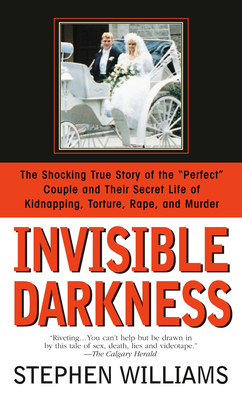 Find us on Bookshop.org to order!
Description
---
Perfect for fans of Making a Murderer and The People v. O. J. Simpson, Invisible Darkness is the story of one of the more bizarre cases in recent memory—killings so sensational that they prompted the Canadian government, in the interests of justice, to silence its national press and to lock foreign journalists out of the courts.

To all appearances, Paul and Karla Bernardo had a fairytale marriage: beautiful working-class girl weds bright upper-middle-class guy and they buy a fashionable dream house in the suburbs. But, bored with his straight, prestigious accounting job, Paul soon went freelance as an international smuggler. He also revealed his boredom with conventional sex—enough so that, one Christmas Eve, he persuaded his wife to drug her own sister and engage in a menage a trois, during which the sister died (a bungling coroner ruled her death accidental). The couple then upped the ante, kidnapping and imprisoning several high school girls for sexual marathons, which they videotaped before savagely murdering their captives. When the girls' bodies were found, the police were stymied (although Paul had been accused of rape and given a DNA test that vanished for two years and only recently was linked to some fifty sexual-assault cases) until Karla tried to have her husband arrested for wife beating. During questioning, she confessed to the crimes and is now serving two concurrent twelve-year sentences for manslaughter in exchange for testifying against her husband, who was jailed for life.
About the Author
---
Stephen Williams is a Canadian investigative journalist and writer. His reputation was solidified by the continuing success of two books, Invisible Darkness: The Strange Case of Paul Bernardo and Karla Homolka and Karla: A Pact with the Devil. Williams has been twice arrested for his writing, once in 1998 and again in 2003, criminally charged with more than one hundred counts of disobeying court orders and publication bans, twice put on trial over the eight-year period between 1998 and 2005, and twice exonerated. Williams has received the Hellman-Hammett Award from the Human Rights Watch, an award presented annually to journalists who have been prosecuted by totalitarian regimes such as China and Iran.