Caring for Your Baby and Young Child, 6th Edition: Birth to Age 5 (Paperback)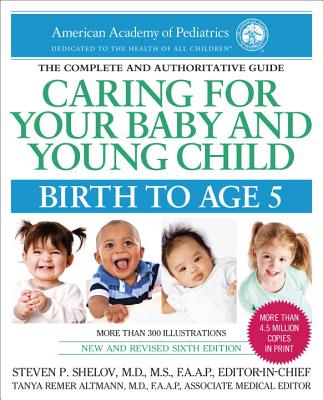 $24.00
Email or call for price.
Description
---
From the American Academy of Pediatrics, the most up-to-date, expert advice for mothers, fathers, and care providers
 
All parents want to provide the very best care for their children. This essential resource from the most respected organization on child health is the one guide pediatricians routinely recommend and parents can safely trust, covering everything from preparing for childbirth to toilet training to nurturing your child's self-esteem. Whether it's resolving common childhood health problems or detailed instructions for coping with emergency medical situations, this new and revised edition of Caring for Your Baby and Young Child has everything you need:
 
• a review of necessary basic care from infancy through age five
• milestones for physical, emotional, social, and cognitive growth, including red flags for preventing obesity
• a complete health encyclopedia covering injuries, illnesses, congenital diseases, and other disabilities
• guidelines for prenatal and newborn care, with spotlights on maternal nutrition, exercise, and screening tests during pregnancy
• an in-depth discussion of breastfeeding, including its benefits, techniques, and challenges, as well as nutritional needs and vitamin/iron supplementation
• updated safety standards: the very latest AAP recommendations, from CPR instruction and immunizations to childproofing tips and product and toy safety
• tips for choosing child care programs and car safety seats
• ways to reduce your child's exposure to environmental hazards, such as air pollution and secondhand smoke
• the latest reports on cutting-edge research into early brain development
• updated content dedicated to sleep and allergies (including food allergies)
• new chapter on the effects of media and technology exposure on children
• special messages for grandparents and stepfamilies
• and much more
About the Author
---
Steven P. Shelov, MD, FAAP, is a professor of pediatrics at Stony Brook Medicine and associate dean of undergraduate medical education at the Winthrop University Hospital Regional Campus of Stony Brook. He received his M.D. from the Medical College of Wisconsin and his master's in administrative medicine from the University of Wisconsin. After completing his residency in pediatrics at Montefiore Medical Center, Albert Einstein College of Medicine, Dr. Shelov became Pediatric Program Director there, and for more than seventeen years was professor of pediatrics, director of pediatric education, and vice chairman of pediatrics. He then went on to become chairman of pediatrics and creator of the Maimonides Infants and Children's Hospital of Brooklyn. Author of more than one hundred original publications and fifteen books, he has been the founding editor-in-chief of the American Academy of Pediatrics guide for parents, Caring for Your Baby and Young Child: Birth to Age 5 since its first edition in 1991. 
 
Dr. Tanya Altmann is a UCLA-trained pediatrician who practices in Southern California. As a spokesperson for the American Academy of Pediatrics, she is frequently called upon by local and national news and talk shows to communicate complicated medical issues into easily understood concepts. She stays on the cutting edge through her position as assistant clinical professor at Mattel Children's Hospital at UCLA, as chief medical advisor for the Newborn Channel, and her private practice. Her book Mommy Calls: Dr. Tanya Answers Parents' Top 101 Questions About Babies and Toddlers, hit several bestsellers' lists after its release. She is also editor-in-chief of the American Academy of Pediatrics' parenting book The Wonder Years and associate medical editor of their bestselling Caring for Your Baby and Young Child: Birth to Age 5.