Final Jeopardy: The Story of Watson, the Computer That Will Transform Our World (Paperback)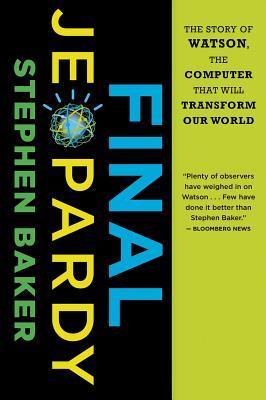 $16.99

Not currently in store. Available to ship from distributor's warehouse.
Description
---
"The place to go if you're really interested in this version of the quest for creating Artificial Intelligence (AI)."—Seattle Times

For centuries, people have dreamed of creating a machine that thinks like a human. Scientists have made progress: computers can now beat chess grandmasters and help prevent terrorist attacks. Yet we still await a machine that exhibits the rich complexity of human thought—one that doesn't just crunch numbers, or take us to a relevant Web page, but understands us and gives us what we need. With the creation of Watson, IBM's Jeopardy! playing computer, we are one step closer to that goal.

But how did we get here? In Final Jeopardy, Stephen Baker traces the arc of Watson's "life," from its birth in the IBM labs to its big night on the podium. We meet Hollywood moguls and Jeopardy! masters, genius computer programmers and ambitious scientists, including Watson's eccentric creator, David Ferrucci. We see how a new generation of Watsons could transform medicine, the law, marketing, even science itself, as machines process huge amounts of data at lightning speed, answer our questions, and possibly come up with new hypotheses. As fast and fun as the game itself, Final Jeopardy shows how smart machines will fit into our world—and how they'll disrupt it.

"Like Tracy Kidder's Soul of a New Machine, Baker's book finds us at the dawn of a singularity. It's an excellent case study, and does good double duty as a Philip K. Dick scenario, too."—Kirkus Reviews

"Baker's narrative is both charming and terrifying . . . an entertaining romp through the field of artificial intelligence—and a sobering glimpse of things to come."—Publishers Weekly, starred review


About the Author
---
STEPHEN BAKER was BusinessWeek's senior technology writer for a decade, based first in Paris and later New York. He has also written for the Los Angeles Times, Boston Globe, and the Wall Street Journal. Roger Lowenstein called his first book, The Numerati, "an eye-opening and chilling book." Baker blogs at finaljeopardy.net.
Praise For…
---
"The book is the place to go if you're really interested in this version of the quest for creating Artificial Intelligence (AI) . . . Lively." -Seattle Times"Baker skillfully weaves the two threads of the story together, and the book contains many passages that make the reader not only assess what they think but how they think, and how they have absorbed and stored the knowledge they possess. It's books like this that remind us there is still so much we don't understand about our own brains, and that the journey of discovery has only just begun." -Culture Mob"Baker's narrative is both charming and terrifying...an entertaining romp through the field of artificial intelligence - and a sobering glimpse of things to come." -STARRED, Publishers Weekly