Run (Paperback)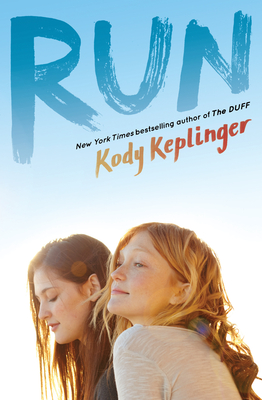 Find us on Bookshop.org to order!
Description
---
New York Times and USA Today bestselling author of The DUFF Kody Keplinger is back with a stunning new YA novel about the risks we'll take to save our friends ... and ourselves.Bo Dickinson is a girl with a wild reputation, a deadbeat dad, and a mama who's not exactly sober most of the time. Everyone in town knows the Dickinsons are a bad lot, but Bo doesn't care what anyone thinks. Agnes Atwood has never gone on a date, never even stayed out past ten, and never broken any of her parents' overbearing rules. Rules that are meant to protect their legally blind daughter -- protect her from what, Agnes isn't quite sure.Despite everything, Bo and Agnes become best friends. And it's the sort of friendship that runs truer and deeper than anything else. So when Bo shows up in the middle of the night, with police sirens wailing in the distance, desperate to get out of town, Agnes doesn't hesitate to take off with her. But running away and not getting caught will require stealing a car, tracking down Bo's dad, staying ahead of the authorities, and-worst of all-confronting some ugly secrets.
About the Author
---
Kody Keplinger grew up in a small Kentucky town. During her senior year of high school, she wrote her debut novel, The DUFF, which is a New York Times bestseller, a USA Today bestseller, a YALSA Top Ten Quick Pick for Reluctant Readers, and a Romantic Times Top Pick. It has since been adapted into a major motion picture. Kody is also the author of Lying Out Loud, a companion to The DUFF; That's Not What Happened; Run; Shut Out; and A Midsummer's Nightmare, as well as the middle-grade novels Lila and Hadley and The Swift Boys & Me. Kody lives in New York City, where she teaches writing workshops and continues to write books for kids and teens. You can find more about her and her books at kodykeplinger.com.
Praise For…
---
Praise for Run"A good unlikely friendship story with compelling characters and a nuanced portrait of disability and small-town life."––School Library Journal"There's plenty to recommend . . . though the most effective thing here remains Agnes' and Bo's voices and the strength of their realistically tumultuous relationship." ––Booklist"Bo and Agnes' unlikely friendship rings true and strong." ––Kirkus Praise for The DUFF"[A] well-written, irreverent, and heartfelt debut." ––Publishers Weekly"A complex, enemies-with-benefits relationship that the YA market has never seen before ... Her snarky teen speak, true-to-life characterizations, and rollicking sense of humor never cease in her debut." ––Kirkus Reviews"What's best here is Bianca's brazen voice. Even when confused, she is truer to herself than most." ––BooklistPraise for Lying Out Loud"Keplinger creates vivid, believable characters that are full of spunk and joie de vivre . . . Fierce, fresh, total fun." ––Kirkus "Sonny is a realistic and very human character, and even though she is a liar, her motivations are all too believable." ––School Library Journal

Praise for Run"A good unlikely friendship story with compelling characters and a nuanced portrait of disability and small-town life."––School Library Journal"There's plenty to recommend . . . though the most effective thing here remains Agnes' and Bo's voices and the strength of their realistically tumultuous relationship." ––Booklist"Bo and Agnes' unlikely friendship rings true and strong." ––Kirkus Praise for The DUFF"[A] well-written, irreverent, and heartfelt debut." ––Publishers Weekly"A complex, enemies-with-benefits relationship that the YA market has never seen before ... Her snarky teen speak, true-to-life characterizations, and rollicking sense of humor never cease in her debut." ––Kirkus Reviews"What's best here is Bianca's brazen voice. Even when confused, she is truer to herself than most." ––BooklistPraise for Lying Out Loud"Keplinger creates vivid, believable characters that are full of spunk and joie de vivre . . . Fierce, fresh, total fun." ––Kirkus "Sonny is a realistic and very human character, and even though she is a liar, her motivations are all too believable." ––School Library Journal