Borrowers Collection (Hardcover)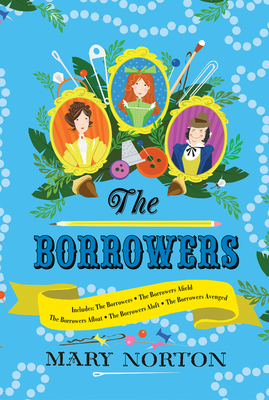 $24.99

Not currently in store. Available to ship from distributor's warehouse.
Description
---
The miniature Clock family, Pod, Homily, and their daughter Arriety, live in a big world among the "human beans" from whom they "borrow" everything they need—matchbox dressers, postage stamp artwork, and a trinket box settee. Now lifelong enthusiasts and brand new fans can escape into the small world of the Borrowers in this beautiful volume. It includes Mary Norton's classic illustrated stories about three little people and their not-so-little adventures: The Borrowers, The Borrowers Afield, The Borrowers Afloat, The Borrowers Aloft, the short story Poor Stainless, and The Borrowers Avenged.
 
About the Author
---
Mary Norton (1903-1992) lived in England, where she was an actress, playwright, and award-winning author of the classic Borrowers novels.
Praise For…
---
Praise for The Borrowers:

Winner of the Carnegie Medal

"A book that begs to be shared."--The Horn Book

"The magic and charm of the writing convince children and grown-ups, too, that Borrowers really do exist."--School Library Journal

Praise for The BorrowersAfield:

"Readers who found Mary Norton's The Borrowers just about perfect may approach this one with the nervous premonition that it couldn't possibly be as good. It is, though--and in some ways even better" --The New York Times Book Review

"This book, like its predecessor, is a lovely thing. . . .  The Borrowers are fascinating not just because they are tiny creatures in a large world, but because they are people." --The Horn Book

Praise for The Borrowers Afloat:

"It is not mere extravagance that has prompted comparisons of these books with The Wind in the Willows and Alice in Wonderland, for like the truly great writers of fantasy, Mary Norton is truly original."--The New York Times Book Review

Praise for The BorrowersAloft:

"Mary Norton has a priceless gift. She can view humans through the eyes of tiny folks and tiny folks through human eyes, and make both believable." --Chicago Tribune

Praise for The Borrowers Avenged:

"Like her Borrowers the author is resourceful, inventive, and patient; her imaginative vitality is limited only by her impeccable sense of logic, and the fantasy continues to be totally real and totally acceptable." --The Horn Book