Dune (Hardcover)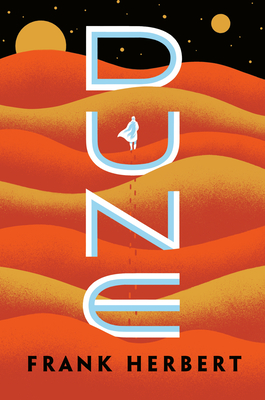 $29.95
Usually Ships in 1-5 Days
Staff Reviews
---
This interstellar epic follows the young Paul Atreides and his Bene Gesserit mother as they move to a new planet and enter a world of turmoil, the full extent of which they can only begin to grasp. Don't let the size of the book scare you: this is a face-paced adventure that quickly evolves from violent political sabotage into warfare between the religiously-fanatic Fremen and the power-hungry, spice-crazed Harkonnens. Covering everything from spirituality to tribalism, this book will certainly keep you on your toes!
— Mckenna G., bookseller
Description
---
Frank Herbert's epic masterpiece—a triumph of the imagination and the bestselling science fiction novel of all time—nominated as one of America's best-loved novels by PBS's The Great American Read.

Set on the desert planet Arrakis, Dune is the story of the boy Paul Atreides, who would become the mysterious man known as Muad'Dib. He would avenge the traitorous plot against his noble family—and would bring to fruition humankind's most ancient and unattainable dream.

A stunning blend of adventure and mysticism, environmentalism and politics, Dune won the first Nebula Award, shared the Hugo Award, and formed the basis of what is undoubtedly the grandest epic in science fiction.
About the Author
---
Frank Herbert is the bestselling author of the Dune saga. He was born in Tacoma, Washington, and educated at the University of Washington, Seattle. He worked a wide variety of jobs—including TV cameraman, radio commentator, oyster diver, jungle survival instructor, lay analyst, creative writing teacher, reporter and editor of several West Coast newspapers—before becoming a full-time writer.

In 1952, Herbert began publishing science fiction with "Looking for Something?" in Startling Stories. But his emergence as a writer of major stature did not occur until 1965, with the publication of Dune. Dune Messiah, Children of Dune, God Emperor of Dune, Heretics of Dune, and Chapterhouse: Dune followed, completing the saga that the Chicago Tribune would call "one of the monuments of modern science fiction." Herbert is also the author of some twenty other books, including The White Plague, The Dosadi Experiment, and Destination: Void. He died in 1986.
Praise For…
---
Praise for Dune

"I know nothing comparable to it except The Lord of the Rings."—Arthur C. Clarke

"It is possible that Dune is even more relevant now than when it was first published."—The New Yorker
 
"An astonishing science fiction phenomenon."—The Washington Post 

"One of the monuments of modern science fiction."—Chicago Tribune

"Powerful, convincing, and most ingenious."—Robert A. Heinlein
 
"Herbert's creation of this universe, with its intricate development and analysis of ecology, religion, politics and philosophy, remains one of the supreme and seminal achievements in science fiction."—Louisville Times