May I Please Have a Cookie? (Scholastic Reader, Level 1): May I Please Have A Cookie? (Paperback)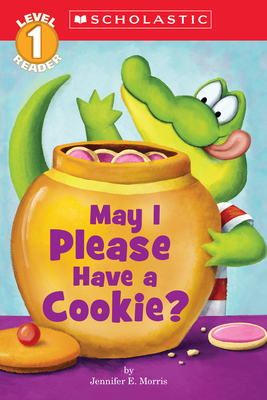 $4.99

Not currently in store. Available to ship from distributor's warehouse.
Description
---
In this Level 1 Scholastic Reader, Alfie learns that the best way to get a delicious cookie is to say please!Alfie loves his mommy's cookies, and he wants one more than anything! But grabbing for one, fishing for one, and dressing up as a cookie inspector don't seem to work. His mommy says there is a better way. What is it? Beginning readers will learn proper manners with Alfie as his mommy teaches him to say the magic words.
About the Author
---
Jennifer is an award-winning illustrator and children's book author. She authored and illustrated the bestselling May I Please Have a Cookie? and Please Write Back. She lives in Massachusetts with her family, but you can visit her at jemorris.com.
Praise For…
---
Booklist Morris, Jennifer E. May I Please Have a Cookie? 2005. 32p. illus. Scholastic, paper, $3.99 (0-439-73819-9). K–Gr. 1. For kids just starting to read, this cheerful title in the Scholastic Reader series is a combination of very simple sentences and bright, clear, colorful illustrations. Alligator Mommy is baking cookies. Alfie loves cookies, but when he tries to grab one, Mommy tells him to "think of a better way to get a cookie." He comes up with three funny tricks to get his treat, but it isn't until he asks politely that Mommy gives him what he wants––along with a big hug. Kids will like the cozy story and the endearing alligator characters. They'll also enjoy the "Fluency Fun" page at the back, with a list of rhyming words to read aloud and a list of words to look for in the text. ––Hazel Rochman

Booklist Morris, Jennifer E. May I Please Have a Cookie? 2005. 32p. illus. Scholastic, paper, $3.99 (0-439-73819-9). K–Gr. 1. For kids just starting to read, this cheerful title in the Scholastic Reader series is a combination of very simple sentences and bright, clear, colorful illustrations. Alligator Mommy is baking cookies. Alfie loves cookies, but when he tries to grab one, Mommy tells him to "think of a better way to get a cookie." He comes up with three funny tricks to get his treat, but it isn't until he asks politely that Mommy gives him what he wants––along with a big hug. Kids will like the cozy story and the endearing alligator characters. They'll also enjoy the "Fluency Fun" page at the back, with a list of rhyming words to read aloud and a list of words to look for in the text. ––Hazel Rochman