Principles of Research in Behavioral Science (Hardcover)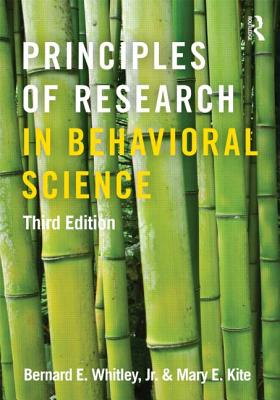 Description
---
Intended for beginning graduate or advanced undergraduate students, this book provides a comprehensive review of research methods used in psychology and related disciplines. It covers topics that are often omitted in other texts including correlational and qualitative research and integrative literature reviews. Basic principles are reviewed for those who need a refresher. The focus is on conceptual issues - statistics are kept to a minimum. Featuring examples from all fields of psychology, the book addresses laboratory and field research. Chapters are written to be used independently, so instructors can pick and choose those that fit their course needs. Reorganized to parallel the steps of the research process, tips on writing reports are also provided. Each chapter features an outline, key terms, a summary, and questions and exercises that integrate chapter topics and put theory into practice. A glossary and an annotated list of readings are now included.
Extensively updated throughout, the new edition features a new co-author, Mary Kite, and:
- New chapters on qualitative research and content analysis and another on integrative literature reviews including meta-analysis, critical techniques for today's research environment.
- A new chapter on exploratory and confirmatory factor analysis that addresses the use of path analysis and structural equation modeling.
- A new chapter on how to write a research report using APA style.
- Examples from cross-cultural and multi-cultural research, neuroscience, cognitive, and developmental psychology along with ones from social, industrial, and clinical psychology.
- More on Internet research and studies.
- Greatly expanded Part 3 on research designs with chapters on true experiments, field research, correlational and single-case designs, content analysis, and survey and qualitative research.
- A website with PowerPoint slides for each chapter, a test bank with short answer and multiple choice questions, additional teaching resources, and the tables and figures from the book for Instructor's and chapter outlines, suggested readings, and links to related web sites for students.
Intended as a text for beginning graduate and/or advanced undergraduate courses in research methods or experimental methods or design taught in psychology, human development, family studies, education, or other social and behavioral sciences, a prerequisite of undergraduate statistics and a beginning research methods course is assumed.

About the Author
---
Bernard E. Whitley, Jr. is Professor and Chair of the Department of Psychological Science at Ball State University. He received his Ph.D. in Social Psychology from the University of Pittsburgh. He is a Fellow of the American Psychological Association and charter member and Fellow of the Association for Psychological Science. His research interests include academic integrity and prejudice, and he has published in many journals including Psychological Bulletin, Journal of Personality and Social Psychology, and Personality and Social Psychology Bulletin. His other books include The Psychology of Prejudice and Discrimination, 2nd ed (2010) with Mary Kite; Academic Dishonesty: An Educator's Guide (2002) with Patricia Keith-Spiegel; The Ethics of Teaching: A Casebook (2002) with Patricia Keith-Spiel, Arno Wittig, David Perkins, and Deborah Balogh (2002); and Handbook for Conducting Research on Human Sexuality (2002), edited with Michael Wiederman. Mary Kite is Professor of Psychological Science at Ball State University. She received her Ph.D. from Purdue University. Her research focuses on stereotyping and prejudice. Strongly committed to psychology education, she is Past-President of The Society for the Teaching of Psychology (STP, APA Division 2). She also chaired the APA Presidential Task Force on Diversity Education Resources and was Secretary-Treasurer and President of the Midwestern Psychological Association (MPA). She is a Fellow of APA Divisions 2, 9, 35, & 44 and of the Association for Psychological Science and Midwest Psychological Association. She coauthored the second edition of The Psychology of Prejudice and Discrimination with Bernard E. Whitley, Jr.