Weapons of Mass Destruction and US Foreign Policy: The Strategic Use of a Concept (Routledge Studies in Us Foreign Policy) (Hardcover)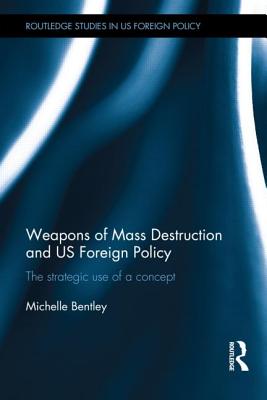 $241.60
Email or call for price.
Description
---
This book examines the use of concepts - specifically 'weapons of mass destruction' (WMD) - in US foreign policy discourse.
Current analysis of WMD definition has made headway into identifying the repercussions that the conceptual conflation of such diverse weapons - typically understood as a reference to nuclear, biological and chemical weapons - has for international security. While the concept assumes these weapons are 'equal', the vast disparity between them, and their disparity from the conventional weapons from which they are supposedly distinct, means this approach is seen as unreflective of reality, causing miscalculations in security policy. Not least, this has highlighted that the issue of WMD definition is a priority concern where this has direct implications for strategy.
In contrast, Weapons of Mass Destruction and US Foreign Policy argues that this approach does not accurately portray conceptual meaning, particularly where it overlooks how political language is constructed. In demonstrating this, the book presents a conceptual history of WMD detailing how this has been defined and used since its emergence into political discourse c.1945. Specifically, it argues that definition is an inherently strategic act; policymakers have deliberately included (or excluded) certain weapons and threats from the classification in order to shape foreign policy dialogues. As such, understanding the WMD concept is not a search for a single interpretation, but an analysis that seeks to comprehend what the concept means at any given time, especially where this relates to the political circumstances of its use. By identifying a variety of ways in which WMD has been defined, the book constructs a dynamic view of conceptual meaning that recognises and, more importantly explains, the inherent diversity in interpretation as the consequence of epistemic and institutional context and the strategic response of policymakers.
This book will be of much interest to students of Weapons of Mass Destruction, US foreign and security policy, security studies, political narratives and IR.
About the Author
---
Michelle Bentley is Lecturer in International Relations at Royal Holloway, University of London, UK.