Weapons Proliferation and War in the Greater Middle East: Strategic Contest (Contemporary Security Studies) (Hardcover)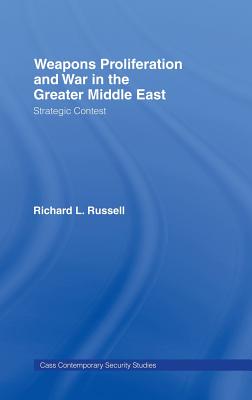 Email orders@tridentbookscafe.com or call for price
Description
---
This important new book explores the strategic reasons behind the proliferation of nuclear, biological and chemical weapons as well as ballistic missile delivery systems in the Greater Middle East.
It examines the uses and limitations of chemical weapons in regional combat, ballistic missile warfare and defenses, as well as Iran's drive for nuclear weapons and the likely regional reactions should Tehran acquire a nuclear weapons inventory. This book also discusses Chinese assistance to WMD and ballistic programs in the Greater Middle East. Finally, this book recommends policy options for American diplomacy to counter the challenges posed by WMD proliferation.
This essential study prepares the ground for the challenges facing the international community.
Richard Russell is a professor at the National Defense University's Near East-South Asia Center for Strategic Studies in Washington, DC. He also teaches at the Security Studies Program at Georgetown University. He previously served as a political-military analyst at the CIA.