Smoke Gets in Your Eyes: And Other Lessons from the Crematory (Paperback)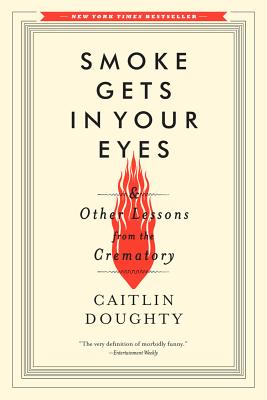 Staff Reviews
---
An absolute must read. At first I picked up this book because I am a fan of the morbid and unspoken, but this ended up being an incredibly eye opening and educational experience. Caitlin Doughty walks us through her experience of becoming a mortician at age 20-something, while mixing in the intricacies of our history and current fear of the dead. Not only will you learn about what happens to us once we die, but you will start to think about it in a whole new (and potentially life changing) way. Doughty is a fabulous writer and I could not put down this book until I was completely through.
— Holly S., manager
Description
---
"Morbid and illuminating" (Entertainment Weekly)—a young mortician goes behind the scenes of her curious profession.
Armed with a degree in medieval history and a flair for the macabre, Caitlin Doughty took a job at a crematory and turned morbid curiosity into her life's work. She cared for bodies of every color, shape, and affliction, and became an intrepid explorer in the world of the dead. In this best-selling memoir, brimming with gallows humor and vivid characters, she marvels at the gruesome history of undertaking and relates her unique coming-of-age story with bold curiosity and mordant wit. By turns hilarious, dark, and uplifting, Smoke Gets in Your Eyes reveals how the fear of dying warps our society and "will make you reconsider how our culture treats the dead" (San Francisco Chronicle).
About the Author
---
Caitlin Doughty is a mortician and the author of Will My Cat Eat My Eyeballs? as well as the New York Times best-selling books Smoke Gets in Your Eyes and From Here to Eternity. She is the creator of the "Ask a Mortician" web series and founder of The Order of the Good Death. She lives in Los Angeles, where she owns and runs a funeral home, Undertaking LA.
Praise For…
---
Demonically funny.

Frank…philosophical…engaging, and even wicked.
— Natalie Kusz

Upbeat, brave and brilliantly, morbidly curious…Her measure of society is fierce, right on, and radical…[A]n important and timely book.
— Helen Davies

It may well blow your mind wide open.
— Elisabeth Donnelly

Think Sloane Crosley meets Six Feet Under.

— Kevin Nguyen

In a moving—and often funny—memoir about working in a crematorium and other parts of the 'death industry,' Caitlin Doughty argues for radical change in how we face the details of death.
— Jessica Ferri

Demonically funny dispatches.

Doughty…a trustworthy tour guide…keeps us laughing most of the way.
— Rachel Lubitz

Alternately heartbreaking and hilarious, fascinating and freaky, vivid and morbid, Smoke Gets in Your Eyes is witty, sharply drawn, and deeply moving. Like a poisonous cocktail, Caitlin Doughty's memoir intoxicates and enchants even as it encourages you to embrace oblivion; she breathes life into death.

— Dodai Stewart, deputy editor of Jezebel.com

Caitlin Doughty takes you to places you didn't know you wanted to go. Fascinating, funny, and so very necessary, Smoke Gets in Your Eyes reveals exactly what's wrong with modern death denial.

— Bess Lovejoy, author of Rest in Pieces: The Curious Fates of Famous Corpses

This book absolutely must be read, if only to remind all of us that exercise, organic food, and plastic surgery only work up to a point. Doughty is my kind of death crusader—compassionate, unblinking, and very, very funny.
— Meg Rosoff