Smoke Gets in Your Eyes: And Other Lessons from the Crematory (Paperback)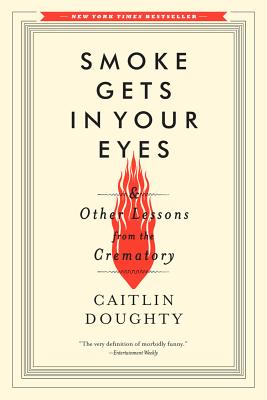 Staff Reviews
---
An absolute must read. At first I picked up this book because I am a fan of the morbid and unspoken, but this ended up being an incredibly eye opening and educational experience. Caitlin Doughty walks us through her experience of becoming a mortician at age 20-something, while mixing in the intricacies of our history and current fear of the dead. Not only will you learn about what happens to us once we die, but you will start to think about it in a whole new (and potentially life changing) way. Doughty is a fabulous writer and I could not put down this book until I was completely through.
— Holly S., manager
How can you say no to a book that starts with the line, "A girl always remembers the first corpse she shaves"? I read this book cover-to-cover in one sitting. "Smoke Gets in Your Eyes" mixes Doughty's experiences working in the death industry with analyses of death throughout history and cultures. Much like in her "Ask a Mortician" webseries, Doughty is an approachable, humorous, refreshingly honest ambassador of death. Doughty speaks thoughtfully of the grave disservice we do to ourselves by avoiding our mortality and not making informed decisions for our bodies post-mortem. There's a certain liberation in confronting our death anxiety and calm in knowing what's happened to our deceased loved ones. I'd recommend this book to anyone who's going to die someday (though you might not want to pair this one with brunch).
-Riley, bookseller
— From
Staff Picks
Description
---
Armed with a degree in medieval history and a flair for the macabre, Caitlin Doughty took a job at a crematory and turned morbid curiosity into her life's work. She cared for bodies of every color, shape, and affliction, and became an intrepid explorer in the world of the dead. In this best-selling memoir, brimming with gallows humor and vivid characters, she marvels at the gruesome history of undertaking and relates her unique coming-of-age story with bold curiosity and mordant wit. By turns hilarious, dark, and uplifting, Smoke Gets in Your Eyes reveals how the fear of dying warps our society and "will make you reconsider how our culture treats the dead" (San Francisco Chronicle).