Fairyland: A Memoir of My Father (Paperback)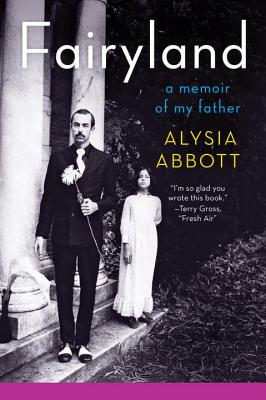 $15.95
Not Currently in Store. Usually Ships in 1-5 Days
Description
---
A beautiful, vibrant memoir about growing up motherless in 1970s and '80s San Francisco with an openly gay father.
With a new foreword
After his wife dies in a car accident, bisexual writer and activist Steve Abbott moves with his two-year-old daughter to San Francisco. There they discover a city in the midst of revolution, bustling with gay men in search of liberation—few of whom are raising a child.
Steve throws himself into San Francisco's vibrant cultural scene. He takes Alysia to raucous parties, pushes her in front of the microphone at poetry readings, and introduces her to a world of artists, thinkers, and writers. But the pair live like nomads, moving from apartment to apartment, with a revolving cast of roommates and little structure. As a child Alysia views her father as a loving playmate who can transform the ordinary into magic, but as she gets older Alysia wants more than anything to fit in. The world, she learns, is hostile to difference.
In Alysia's teens, Steve's friends—several of whom she has befriended—fall ill as AIDS starts its rampage through their community. While Alysia is studying in New York and then in France, her father tells her it's time to come home; he's sick with AIDS. Alysia must choose whether to take on the responsibility of caring for her father or continue the independent life she has worked so hard to create.
Reconstructing their life together from a remarkable cache of her father's journals, letters, and writings, Alysia Abbott gives us an unforgettable portrait of a tumultuous, historic time in San Francisco as well as an exquisitely moving account of a father's legacy and a daughter's love.
About the Author
---
Alysia Abbott's work has appeared in Real Simple, Salon, and TheAtlantic.com. She is a graduate of the New School's MFA program and was a contributing producer at WNYC radio. She lives in Cambridge, Massachusetts, with her husband and two children.
Praise For…
---
I'm so glad you wrote this book.
— Terry Gross, on "Fresh Air"

Doubles as a portrait of a city and a community at a crucial point in history. . . . funny, strange, and sweet.

Alysia beautifully remembers the innocence of the age between the disappearance of the Beats and the onset of AIDS.

Generous, precise, and deeply moving, Fairyland is a love story that not only brings a new generational perspective to a history we're in danger of forgetting, but irrevocably shifts the way we think about family itself.

— Alison Bechdel, author of Are You My Mother?

Gorgeous. . . . As a chronicle of the moment when the San Francisco of Armistad Maupin became the city of Harvey Milk, when gay and experimental poetry flourished in California, Fairyland is vivid and indelible. As the portrait of a conspiracy of love between a father and a daughter, it is heartrending, a brilliant addition to the literature of American memoir.

— Honor Moore, Author of The Bishop's Daughter

A beautiful, haunting book that instructs, even as it breaks our hearts.
— Dani Shapiro, author of Devotion: A Memoir

Clear-eyed and heartrending, Fairyland captures a singular time and place in American history. It also captures something much more important: what it means to be truly loved—and to love truly. A beautiful book.

— Andrew McCarthy, author of The Longest Way Home

As she depicts the dynamics of a unique, occasionally fraught, gay parent–straight child relationship, Abbott offers unforgettable glimpses into a community that has since left an indelible mark on both the literary and social histories of one of America's most colorful cities. A sympathetic and deeply moving story.