Underland: A Deep Time Journey (Hardcover)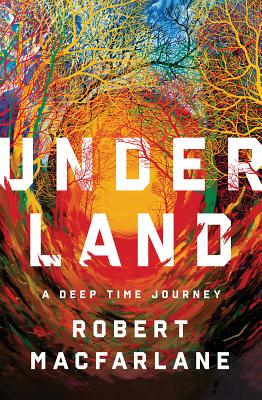 $27.95
Available to Ship from Distributor's Warehouse
Staff Reviews
---
Underland is, above all, a book about claustrophobia. The claustro phobia of tight caverns, of buried scientific installations, of Parisian sewers and of our society as a whole. Macfarlane expertly captures his experiences underneath the earth, bringing the reader into some deeply uncomfortable spaces that veer from gruesome and anxiety inducing to beautiful and mythic. He expertly weaves the seemingly disparate vignettes into a layered web that connects everything from root networks to runaway effects of the Anthropocene. He takes a perspective informed by the concept of deep time, one naturally suited to geologic scales and the persistent effects of human action. Typical of Macfarlane, his prose is absolutely gorgeous, perfectly suited to capturing the overwhelming experiences he went through in researching this book. With this book Macfarlane has continued his transformation from a "mere" nature writer to one of the most poignant and insightful voices speaking on the multifarious intersections of humanity, society and nature.
--Sean C, Bookseller
— From
Staff Picks
June 2019 Indie Next List
---
"I don't think there is a square mile of ground on this planet where Robert Macfarlane couldn't dig up a new, wondrous story. Underland continues the tradition of profound storytelling, reflection, and, quite simply, gorgeous writing we have come to expect from him. Macfarlane's ventures into the underworlds of our planet, both mythical and literal, may amount to his finest work yet, and not just because these are the places that have captivated me most throughout my life. I feel fortunate to be living at the same time as him, knowing that as long as he is writing, there is something to look forward to."
— Chris La Tray, Fact & Fiction Downtown, Missoula, MT
Summer 2020 Reading Group Indie Next List
---
"A study of the cultural, geological, and psychological call of the world beneath. From ancient cave paintings to the language of trees, from the catacombs of Paris to the burial mounds of nuclear power plants, McFarlane leads us on a bounding but intimate journey through our past and into our future."
— Ben Kemper, Rediscovered Books, Boise, ID
Description
---
National Bestseller • New York Times "100 Notable Books of the Year" • NPR "Favorite Books of 2019" • Guardian "100 Best Books of the 21st Century" • Winner of the National Outdoor Book Award



From the best-selling, award-winning author of Landmarks and The Old Ways, a haunting voyage into the planet's past and future.
Hailed as "the great nature writer of this generation" (Wall Street Journal), Robert Macfarlane is the celebrated author of books about the intersections of the human and the natural realms. In Underland, he delivers his masterpiece: an epic exploration of the Earth's underworlds as they exist in myth, literature, memory, and the land itself.
In this highly anticipated sequel to his international bestseller The Old Ways, Macfarlane takes us on an extraordinary journey into our relationship with darkness, burial, and what lies beneath the surface of both place and mind. Traveling through "deep time"—the dizzying expanses of geologic time that stretch away from the present—he moves from the birth of the universe to a post-human future, from the prehistoric art of Norwegian sea caves to the blue depths of the Greenland ice cap, from Bronze Age funeral chambers to the catacomb labyrinth below Paris, and from the underground fungal networks through which trees communicate to a deep-sunk "hiding place" where nuclear waste will be stored for 100,000 years to come. Woven through Macfarlane's own travels are the unforgettable stories of descents into the underland made across history by explorers, artists, cavers, divers, mourners, dreamers, and murderers, all of whom have been drawn for different reasons to seek what Cormac McCarthy calls "the awful darkness within the world."
Global in its geography and written with great lyricism and power, Underland speaks powerfully to our present moment. Taking a deep-time view of our planet, Macfarlane here asks a vital and unsettling question: "Are we being good ancestors to the future Earth?" Underland marks a new turn in Macfarlane's long-term mapping of the relations of landscape and the human heart. From its remarkable opening pages to its deeply moving conclusion, it is a journey into wonder, loss, fear, and hope. At once ancient and urgent, this is a book that will change the way you see the world.
About the Author
---
Robert Macfarlane's prize-winning and best-selling books include Mountains of the Mind, The Old Ways, Landmarks, and, with Jackie Morris, The Lost Words. He lives in Cambridge, England, where he is a Fellow of the University of Cambridge.

Praise For…
---
Mesmerizing…Underland is a portal of light in dark times.

— Terry Tempest Williams

An excellent book—fearless and subtle, empathic and strange.
— Dwight Garner

Reading Macfarlane connects us to dazzling new worlds. It's a connection that brings, more than anything else, joy.
— Barbara J. King

Incantatory…A worthy companion to the historian Simon Schama's monumental Landscape and Memory.

— Marcia Bjornerud

Brilliant.
— Peter Fish

Exquisite. 
— Ryan J. Haupt

Quietly prophetic. 
— Jedediah Purdy

Profound in every sense of the word.
— Richard Powers

Underland is a devastating act of witness and a clear, cogent, lyrical examination of the darknesses invisible beneath our feet.

— Lauren Groff

Underland is a profound reckoning with humankind's self-imperiled position in nature's eternal order. At once thrilling and soulful, raw and erudite, it is a book of revelations.

— Philip Gourevitch