The Company: The Rise and Fall of the Hudson's Bay Empire (Hardcover)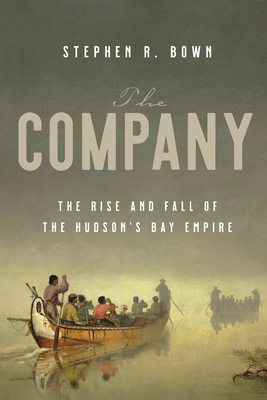 Find us on Bookshop.org to order!
Description
---
NATIONAL BESTSELLER

A thrilling new telling of the story of modern Canada's origins.

The story of the Hudson's Bay Company, dramatic and adventurous and complex, is the story of modern Canada's creation. And yet it hasn't been told in a book for over thirty years, and never in such depth and vivid detail as in Stephen R. Bown's exciting new telling.

The Company started out small in 1670, trading practical manufactured goods for furs with the Indigenous inhabitants of inland subarctic Canada. Controlled by a handful of English aristocrats, it expanded into a powerful political force that ruled the lives of many thousands of people--from the lowlands south and west of Hudson Bay, to the tundra, the great plains, the Rocky Mountains and the Pacific northwest. It transformed the culture and economy of many Indigenous groups and ended up as the most important political and economic force in northern and western North America.

When the Company was faced with competition from French traders in the 1780s, the result was a bloody corporate battle, the coming of Governor George Simpson--one of the greatest villains in Canadian history--and the Company assuming political control and ruthless dominance. By the time its monopoly was rescinded after two hundred years, the Hudson's Bay Company had reworked the entire northern North American world.

Stephen R. Bown has a scholar's profound knowledge and understanding of the Company's history, but wears his learning lightly in a narrative as compelling, and rich in well-drawn characters, as a page-turning novel.
About the Author
---
STEPHEN R. BOWN writes on the history of exploration, science and ideas. His subects include the medical mystery of scurvy, the Treaty of Tordesillas and the lives of Captain George Vancouver and Roald Amundsen. His books have been published in multiple English-speaking territories, translated into nine languages and shortlisted for many awards. He has won the BC Book Prize, the Alberta Book Award, the William Mills Prize for Polar Books, among others. His 2020 book, The Company: The Rise and Fall of the Hudson's Bay Empire, won the J.W. Defoe Book Prize and the National Business Book Award. Born in Ottawa, Bown now lives near Banff in the Canadian Rockies.
Praise For…
---
WINNER OF THE 2021 NATIONAL BUSINESS BOOK AWARD
WINNER OF THE 2021 J.W. DAFOE BOOK PRIZE 
NATIONAL BESTSELLER

"Absorbing and nuanced . . . . What distinguishes The Company's popular history is Bown's highlighting of those dynamic Indigenous polities and, as far as the historical records allow, some key individuals within them. . . . The Simpson era, generally featured as a business triumph in earlier histories, is a more fine-grained and melancholy tale in The Company." —Maclean's

"In The Company, Stephen Bown . . . tells the story of the Hudson's Bay Company with verve and an astringent, contemporary slant. . . . Bown widens the lens to include a more-informed portrait of the peoples and a more-balanced assessment of the HBC's impact during 200 years of monopoly. . . . The Company is compelling, both as a lively narrative about a corporation that helped shape North American development and as a thoughtful exploration of the complex indigenous cultures that once dominated the continent." —Wall Street Journal

"A thorough and comprehensive history of the international operation that helped create western Canada, The Company focuses on vivid portraits of the people whose personalities and actions made the Hudson's Bay Company what it was and what it failed to be. The book seamlessly weaves together a continuous series of often unlikely adventures, bringing to the fore personalities both familiar (George Simpson and Samuel Hearne) and previously slighted (the Chipewyan woman guide and interpreter Thanadelthur, the bilingual intermediary Matonabbee, and the Black translator James Douglas). Written by experienced writer and historian Stephen R. Bown, The Company moves at a fast pace with many intriguing twists and turns. It's a well-written corporate biography for this generation." —Eugene Walz, 2021 J.W. Dafoe Book Prize Jury Chair

"It is the story of the HBC as depicted by the people who created it, led it to its success, and then led it to its demise and the end of its monopoly in North America. There is no question that the author has had to fill in blanks not provided by biographies, autobiographies, letters and other records of the players in the HBC drama. Fortunately Bown is a gifted writer who seems to know relevant details of the landscape over which the HBC story unfolded, and over which the people in his story paddled and walked in every season." —Emőke Szathmáry, 2021 J.W. Dafoe Book Prize Juror

"At a time when the downtown Bay is a white elephant in many Western Canadian cities, this book is a timely reminder of the vast and historic successes—and flaws—of the company and how the recent history of Western Canada is really a corporate one. It is also a reminder of just how adventurous and swashbuckling that recent history actually is, full of weird and admirable and occasionally contemptible colonial characters. This book was, to my surprise, a page-turner and upended many of my vague impressions of the famous men who colonized the west." —Mary Agnes Welch, 2021 J.W. Dafoe Book Prize Juror

"The Company . . . provides a fresh perspective on Canada's founding myth. In re-telling the story of the Hudson's Bay Company and its foundational role in the early development of our country, author Stephen Bown highlights the critical role that collaborative relationships with First Nations played in the venture's earliest success. He also chronicles how competition, political agendas, economic shifts, and personalities converged to disrupt that fragile balance, ultimately contributing to the disenfranchisement of Indigenous people as Canada became a nation." —National Business Book Award