But Was It Just?: Reflections on the Morality of the Persian Gulf War (Paperback)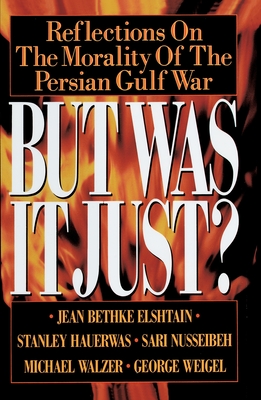 $15.00
Not currently in store. Available to ship from distributor's warehouse.
Description
---
Praise for But Was It Just?

"This is a remarkable contribution to contemporary debate on the issues of distinctively contemporary war. For those who want to know what the strongest arguments are on each side of the issues it is essential reading." - Alasdair MacIntyre, author, After Virtue

"A balanced and incisive debate on the morality of the Persian Gulf War." - Colonel Harry G. Summers, Jr., author, On Strategy II: A Critical Analysis of the Gulf War

"I think Desert Storm was just, but I admit it's arguable. And nowhere is the morality of the Gulf War--any war--argued with more energy, wit, and conviction than in But Was It Just? The war sparked a national debate, at once morally and politically important. But Was It Just? captures that debate in all its rich dimensions." - Fred Barnes, The New Republic

"A fine, always thought-provoking, and often moving collection of essays that shows not only the problems moralists encounter when they try to apply just war theory to a concrete case such as the Gulf War, but also the need to ask whether this theory ought to be applied at all in a world where it often serves as a cover for power politics and where war has become a gruesome evil. It is a first-rate collection!" - Stanley Hoffman, Center for European Studies, Harvard University.
About the Author
---
Jean Bethke Elshtain is Centennial Professor of Political Science and Professor of Philosophy at Vanderbilt University in Nashville, Tennessee. She is the author of Women and War and, coming out this year, Antigone's Daughters. She writes on the history of political thought, contemporary political and social theory, moral philosophy, and women's studies.

Stanley Hauerwas is Professor of Theological Ethics at Duke University in Durham, North Carolina. He is the author of A Community of Character: Toward a Constructive Christian Social Ethic and The Peaceable Kingdom. His writing focuses on an ethic of virtue or character.

Sari Nusseibeh is the director of the Jerusalem Center for Strategic Research and Professor of Philosophy at Bir Zeit University in the West Bank. He is author with Mark Heller of No Trumpets, No Drums: A Two-State Settlement of the Israeli-Palestinian Conflict.

Michael Walzer is the U.P.S. Foundation Professor of Social Science at the Institute for Advanced Study in Princeton, New Jersey. A writer on social ethics, he is the author of Just and Unjust Wars and, most recently, The Company of Critics.

George Weigel is president of the Ethics and Public Policy Center in Washington, D.C., and a Catholic theologian specializing in social ethics. He is author of Tranquillitas Ordinis: The Present Failure and Future Promise of American Catholic Thought on War and Peace.

La Civilta Cattolica is a Jesuit magazine published in Rome. Its editorials, which are written by an anonymous board of editors, are reviewed by the Vatican Secretariat of State, according to the Catholic News Service, the official press arm of the United States Catholic Conference. The director of La Civilta Cattolica, the Rev. GianPaolo Salvini, S.J., said, "We are neither an official nor a semiofficial voice of the Vatican. But according to...tradition, we are used to working in syntony with the Holy See, and we avoid publishing articles which are contrary to the mind of the Vatican. This was the case for this editorial too."

David DeCosse is an editor at Doubleday. He is a graduate of Harvard College and the Columbia University Graduate School of Journalism.