Overcoming Dyslexia: Second Edition, Completely Revised and Updated (Hardcover)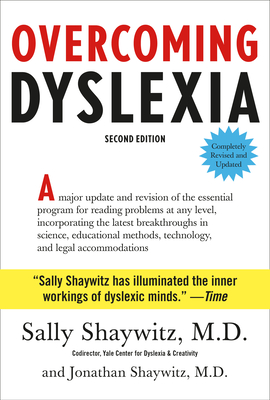 $35.00

Not currently in store. Available to ship from distributor's warehouse.
Description
---
From one of the world's preeminent experts on reading and dyslexia, the most comprehensive, up-to-date, and practical book available on identifying, understanding, and overcoming reading problems--now revised to reflect the latest research and evidence-based approaches.

Dyslexia is the most common learning disorder on the planet, affecting about one in five individuals, regardless of age or gender. Now a world-renowned expert gives us a substantially updated and augmented edition of her classic work: drawing on an additional fifteen years of cutting-edge research, offering new information on all aspects of dyslexia and reading problems, and providing the tools that parents, teachers, and all dyslexic individuals need. This new edition also offers:

   • New material on the challenges faced by dyslexic individuals across all ages
   • Rich information on ongoing advances in digital technology that have dramatically increased dyslexics' ability to help themselves
   • New chapters on diagnosing dyslexia, choosing schools and colleges for dyslexic students, the co-implications of anxiety, ADHD, and dyslexia, and dyslexia in post-menopausal women
   • Extensively updated information on helping both dyslexic children and adults become better readers, with a detailed home program to enhance reading
   • Evidence-based universal screening for dyslexia as early as kindergarten and first grade – why and how 
   • New information on how to identify dyslexia in all age ranges
   • Exercises to help children strengthen the brain areas that control reading
   • Ways to raise a child's self-esteem and reveal her strengths
   • Stories of successful men, women, and young adults who are dyslexic
About the Author
---
SALLY E. SHAYWITZ, M.D., is the Audrey G. Ratner Professor in Learning Development at Yale University and co-founder and co-director of the Yale Center for Dyslexia and Creativity. She is the author of more than 350 scientific articles and book chapters, and the creator of the Shaywitz DyslexiaScreenTM, a tool used by teachers to reliably screen young children for dyslexia. Overcoming Dyslexia won the Margo Marek Book Award and the NAMI Book Award. Dr. Shaywitz is an elected member of the National Academy of Medicine and is regularly selected as one of the "Best Doctors in America." She has testified before committees in both the Senate and the House. She lives in Woodbridge, CT.

JONATHAN SHAYWITZ, M.D., is a board-certified psychiatrist. He was the director of the Anxiety Disorders Program at Cedars Sinai in Los Angeles, and more recently the Medical Director of Behavioral Health at Mission Hospital Laguna Beach and Mission Hospital Mission Viejo.
Praise For…
---
"Sally Shaywitz is an amazing woman, and no one has a better understanding of dyslexia and how it affects young children. Her work in this field is unmatched. One in five children of all classes, genders, and races have dyslexia, and it must be recognized early. These children think fast but read slow, through no fault of their own. Some of them are brilliant, but their brilliance often goes unrecognized. Sally's tireless advocacy for those who have this learning disability has to be an inspiration for anyone who values early learning, systems of intelligence, and how to combat the many false perceptions of dyslexia. Her constant fight to change public policy as it relates to the way dyslexia functions and is understood in the nation's schools should be deeply meaningful to anyone who cares about children in today's world." —Bob Dylan

"In this gem of a book, Dr. Sally Shaywitz uses her voice, her images, her brain–and yes, her heart–to shine a piercing and clarifying light on what we so inadequately call 'dyslexia.' What is more, she shows how almost everyone can overcome it." —Daniel D. Federman, M.D.,

"Fascinating. . . . Shaywitz has illuminated the inner workings of dyslexic minds." —Time

"An important book.... For the first time, scientists are understanding how the brain works...in the act of reading. Front and center now is Sally Shaywitz." –The Baltimore Sun