Ashes in the Wind (Mass Market)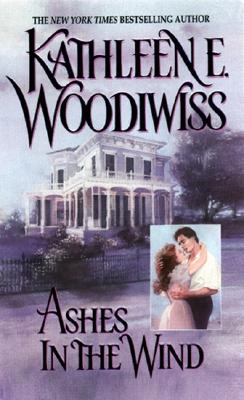 Find us on Bookshop.org to order!
Description
---
A woman burdened by war...A doctor torn between passion and duty...A sweeping tale of love in the face of dishonor from the incomparable storyteller--Kathleen Woodiwiss.
Alaina MacGaren is forced to flee the devastation of her homeland in the guise of a young boy, only to find sanctuary in the arms of an enemy. Cole Latimer is a dashing Yankee surgeon who has served the Union faithfully, and his tender heart compels him to help a ragged, innocent "lad" in need--never suspecting the rags conceal a bewitching belle suspected of being a rebel spy.
But Alaina's masquerade does not fool Cole for long. And the strength, courage, and breathtaking sensuality of this woman whom it would be treasonous to love sets duty and desire at war within him. Yet Destiny has joined them for good or ill--and they both must follow where their hearts would lead them, if they are to build a glorious new life together out of the ashes of the old.
About the Author
---
(1939 - 2007) Kathleen E. Woodiwiss, creator of the modern historical romance, died July 6, 2007 in Minnesota. She had just turned 68. Her attorney, William Messerlie, said that she died after a long illness.
Born on June 3, 1939 in Alexandria, Louisiana, Mrs. Woodiwiss was the youngest of eight siblings. She long relished creating original narratives, and by age six was telling herself stories at night to help herself fall asleep. At age 16, she met U.S. Air Force Second Lieutenant Ross Woodiwiss at a dance, and they married the following year. She wrote her first book in longhand while living at a military outpost in Japan.
Woodiwiss is credited with the invention of the modern historical romance novel: in 1972, she released The Flame and the Flower, an instant New York Times bestseller, creating literary precedent. The Flame and the Flower revolutionized mainstream publishing, featuring an epic historical romance with a strong heroine and impassioned sex scenes. "Kathleeen E. Woodiwiss is the founding mother of the historical romance genre," says Carrie Feron, vice president/editorial director of William Morrow and Avon Books, imprints of HarperCollins Publishers. Feron, who has been Woodiwiss's editor for 13 years, continues, "Avon Books is proud to have been Kathleen's sole publishing partner for her paperbacks and hardcover novels for more than three decades." Avon Books, a leader in the historical romance genre to this day, remains Mrs. Woodiwiss's original and only paperback publisher; William Morrow, Avon's sister company, publishes Mrs. Woodiwiss's hardcovers.
The Flame and the Flower was rejected by agents and hardcover publishers, who deemed it as "too long" at 600 pages. Rather than follow the advice of the rejection letters and rewrite the novel, Mrs. Woodiwiss instead submitted it to paperback publishers. The first publisher on her list, Avon, quickly purchased the novel and arranged an initial 500,000 print run. The novel sold over 2.3 million copies in its first four years of publication.
The success of this novel prompted a new style of writing romance, concentrating primarily on historical fiction tracking the monogamous relationship between a helpless heroines and the hero who rescued her, even if he had been the one to place her in danger. The romance novels which followed in her example featured longer plots, more controversial situations and characters, and more intimate and steamy sex scenes.
"Her words engendered an incredible passion among readers," notes Feron. Bestselling author Julia Quinn agrees, saying, "Woodiwiss made women want to read. She gave them an alternative to Westerns and hard-boiled police procedurals. When I was growing up, I saw my mother and grandmother reading and enjoying romances, and when I was old enough to read them myself, I felt as if I had been admitted into a special sisterhood of reading women."
New York Times bestselling author Susan Elizabeth Phillips, a leading voice in the women's fiction arena, says, "We all owe our careers to her. She opened the world of romance to us as readers. She created a career for us to go into."
The pioneering author has written 13 novels over the course of 35 years, all New York Times bestsellers. Kathleen E. Woodiwiss's final literary work, the upcoming Everlasing, will be published by William Morrow in October 2007. "Everlasting is Kathleen's final gift to her fans," notes Feron.
Kathleen E. Woodiwiss, who was predeceased by her husband and son Dorren, is survived by sons Sean and Heath, and numerous grandchildren.