Arsenals of Folly: The Making of the Nuclear Arms Race (Paperback)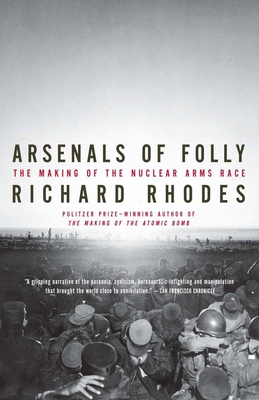 $21.60

Not currently in store. Available to ship from distributor's warehouse.
Description
---
Pulitzer Prize-winning author Richard Rhodes delivers a riveting account of the nuclear arms race and the Cold War.
In the Reagan-Gorbachev era, the United States and the Soviet Union came within minutes of nuclear war, until Gorbachev boldly launched a campaign to eliminate nuclear weapons, setting the stage for the 1986 Reykjavik summit and the incredible events that followed. In this thrilling, authoritative narrative, Richard Rhodes draws on personal interviews with both Soviet and U.S. participants and a wealth of new documentation to unravel the compelling, shocking story behind this monumental time in human history—its beginnings, its nearly chilling consequences, and its effects on global politics today.
About the Author
---
Richard Rhodes is the author or editor of twentytwo books, including The Making of the Atomic Bomb, which won a Pulitzer Prize in Nonfiction, a National Book Award and a National Book Critics Circle Award, and Dark Sun: The Making of the Hydrogen Bomb, which was one of three finalists for a Pulitzer Prize in History. He has received numerous fellowships for research and writing, including grants from the Ford Foundation, the Guggenheim Foundation, the MacArthur Foundation and the Alfred P. Sloan Foundation. He has been a visiting scholar at Harvard and MIT and a host and correspondent for documentaries on public television's Frontline and American Experience series. An affiliate of the Center for International Security and Cooperation at Stanford University, he lectures frequently to audiences in the United States and abroad.
Praise For…
---
"A gripping narrative of the paranoia, cynicism, bureaucratic infighting and manipulation that brought the world close to annihilation." —San Francisco Chronicle
"Every age finds the writers it needs, and the nuclear age has found Richard Rhodes." —The Nation
"Throughout his assiduously researched work, Rhodes cites stunning statistics to support his contention that the nuclear competition has run amok . . . dense with crucial, revealing information obtained from personal interviews and newly declassified documents, Rhodes's Arsenals of Folly is a dramatic and penetrating investigation of the nuclear arms race and its eventual end." —The Philadelphia Inquirer
"A terrifying overview of the global potential for killing." —The Economist
"Rhodes performs the remarkable feat of reconstructing all the niggling, the misunderstanding, the moments of obtuseness in a way that proves dramatic precisely in its repetitiveness and frustration." —Newsday
"His artful narrative contains some real gems." —New York Times Book Review
"Highly detailed and gripping . . . a chilling conclusion." —Scientific American
"Rich and riveting . . . a splendid writer . . . harrowing." —Los Angeles Times Book Review
"Using an impressive range of sources, clean writing and a clear sense of the dramatic, Rhodes triumphs." —Rocky Mountain News
"As a contribution to our understanding of the latter half of the 20th century, Rhodes's achievement is on a par with Taylor Branch's America in the King Years trilogy and Robert Caro's monumental ongoing biography of Lyndon B. Johnson." —The Mercury News (San Jose, CA)
"Rhodes is not only an outstanding researcher and historian, he is a superb writer who enraptures the reader with a gripping narrative. Upon reading this important book, one will walk away ruminating on the unspeakable horror of the nuclear apocalypse that was, it often seems miraculously, avoided during the Cold War." —The Sunday Star-Ledger
"Stylistically, Arsenals of Folly is often quite distinguished. The impressive opening chapter–which describe the Chernobyl disaster in a controlled but morbidly involving tone–is an achievement . . . as an allegory of manipulated intelligence, miscalculation, and fatal ideology, it is alarmingly relevant." —The Tennessean
"No finer manual for learning from the mistakes of our past than [this] valuable book." —Seed magazine
"Detailed and dramatic . . . devastating commentary on the perilous nature of the nuclear arms race." —Houston Chronicle
"Intriguing insight . . . Rhodes masterfully dissects decades of what he considers reckless and misguided policy decisions that led the United States and the Soviet Union to expand their nuclear arsenals beyond all logic . . . The author's deftly painted character portraits–he mentions Gorbachev's "southern Russian accent and hillbilly grammar"–make for an engrossing narrative." —The American Heritage