I Hold a Wolf by the Ears: Stories (Hardcover)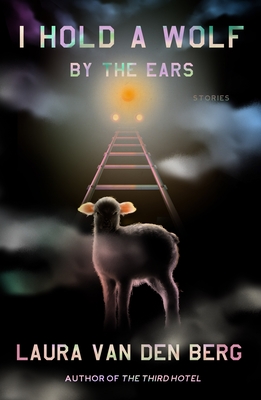 Staff Reviews
---
Much like its cover (holy wow, is it beautiful), this book is a trip. This collection spins the tales of female struggles into a morbidly fantastical world. When I read this, I found these stories empowering. I felt that the surreal prose of this collection really took back the dignity robbed of the women in these stories. If you like the works of Ottessa Moshfegh, you may enjoy these short stories.
— Abby V.
August 2020 Indie Next List
---
"Laura van den Berg's new collection of stories, one of the most unique I've read in recent years, navigates a space between the outer and inner world and takes unexpected turns that, like her novel, The Third Hotel, seem to bring in aesthetics of literature outside our time and place to tell stories that are very much grounded in our present. These stories are thrilling, timeless, and get better when you reread them. I've read 'Hill of Hell' more than five times by now."
— Fernando Flores, Malvern Books, Austin, TX
Description
---
ONE OF TIME'S 10 BEST FICTION BOOKS OF 2020. Longlisted for the Joyce Carol Oates Prize. Named a Best Book of 2020 by NPR, Bustle, Good Housekeeping, the New York Public Library, Library Journal, Lit Hub, Electric Literature, and Tor.com

"As enchanting as fairy tales, as mysterious as dreams, these exquisitely composed fictions are as urgent and original as any being written today." —Sigrid Nunez, author of The Friend, winner of the 2018 National Book Award for Fiction

One of Entertainment Weekly's 50 Most Anticipated Books of 2020 and 30 Hottest Summer Reads, one of O, the Oprah Magazine's 30 Most Anticipated Books of 2020, one of BuzzFeed's Most Anticipated Books of 2020 and 29 Summer Books You Won't Be Able to Put Down, one of Esquire's 20 Must-Read Books of Summer 2020, one of the BBC's Ten Books to Read in 2020, one of TIME's 12 New Books to Read in July one of ELLE's 30 Most Anticipated New Books of Summer 2020, one of Refinery29's 25 Books You'll Want to Read This Summer, one of Time's 45 New Books You Need to Read This Summer, one of Thrillist's 21 Books We Can't Wait to Read in 2020, one of Bustle's Most Anticipated Books of July 2020, one of LitHub's 2020 Summer Books, and one of The Millions Most Anticipated Books of the First Half of 2020

An urgent and unsettling collection of women on the verge from Laura van den Berg, author of The Third Hotel

I Hold a Wolf by the Ears, Laura van den Berg's first story collection since her prizewinning book The Isle of Youth, draws readers into a world of wholly original, sideways ghost stories that linger in the mouth and the mind. Both timeless and urgent, these eleven stories confront misogyny, violence, and the impossible economics of America with van den Berg's trademark spiky humor and surreal eye. Moving from the peculiarities of Florida to liminal spaces of travel in Mexico City, Sicily, and Iceland, I Hold a Wolf by the Ears is uncannily attuned to our current moment, and to the fears we reveal to no one but ourselves.

In "Lizards," a man mutes his wife's anxieties by giving her a LaCroix-like seltzer laced with sedatives. In the title story, a woman poses as her more successful sister during a botched Italian holiday, a choice that brings about strange and destructive consequences, while in "Karolina," a woman discovers her prickly ex-sister-in-law in the aftermath of an earthquake and is forced to face the truth about her violent brother.

I Hold a Wolf by the Ears presents a collection of women on the verge, trying to grasp what's left of life: grieving, divorced, and hyperaware, searching, vulnerable, and unhinged, they exist in a world that deviates from our own only when you look too closely. With remarkable control and transcendent talent, van den Berg dissolves, in the words of the narrator of "Slumberland," "that border between magic and annihilation," and further establishes herself as a defining fiction writer of our time.
About the Author
---
Laura van den Berg is the author of the story collections What the World Will Look Like When All the Water Leaves Us and The Isle of Youth, and the novels Find Me and The Third Hotel, which was a finalist for the New York Public Library Young Lions Fiction Award and an Indie Next pick, and was named a best book of 2018 by more than a dozen publications. She is the recipient of a Rosenthal Family Foundation Award from the American Academy of Arts and Letters, the Bard Fiction Prize, a PEN/O. Henry Award, and a MacDowell Colony Fellowship, and is a two-time finalist for the Frank O'Connor International Short Story Award. Born and raised in Florida, Laura splits her time between the Boston area and Central Florida, with her husband and dog.
Praise For…
---
"The terrain of Van den Berg's difficult, beautiful and urgent new book, I Hold a Wolf by the Ears, is an ecosystem of weird and stirring places you'll want to revisit, reconsider, maybe even take shelter in . . . Van den Berg feels like the writer we not only want but maybe need right now . . . Van den Berg is so consistently smart and kind, bracingly honest, keen about mental illness and crushing about everything from aging to evil that you might not be deluded in hoping that the usual order of literary fame could be reversed: that an author with respectable acclaim for her novels might earn wider recognition for a sneakily brilliant collection of stories." --Nathan Deuel, Los Angeles Times

"[A] richness of reading pleasures brims in every one of these 11 tales . . . this book offers the greatest distillation of [van den Berg's] talents to date. To pick a best story is beyond me . . . Eye-popping description, however, is far from the only form of liveliness in these narratives. The recurring drama is that of identity lost, reinvented or both." --John Domini, The Washington Post

"Exquisite. It took a decade of writing book reviews to get here, but here we are — I've used "exquisite." The stories in Laura van den Berg's I Hold a Wolf by the Ears are exquisite . . . unsettling and bizarre, coming at you from weird angles to hit you in unexpected ways like the well-trained fists of a professional boxer." --Gabino Iglesias, NPR

"A series of melancholy meditations on death, grief and travel . . . All of the work has a dangerous, eerie charge . . . This is one of van den Berg's strengths: The mundane becomes swiftly, surprisingly, sinister." --Jackie Thomas-Kennedy, Minneapolis StarTribune

"A collection of dreamlike tales of womanhood that speak, however strangely, to the dark realities of modern life." --Entertainment Weekly

"These disquieting, topsy-turvy tales by an ingenious author blur the borders between reality and fantasy to reveal the universal uncanniness of womanhood." --O, the Oprah Magazine

"Laura Van Den Berg, a modern master of all things strange and spooky, returns to form with a new collection of mesmerizing stories about women on the brink . . . Each otherworldly story teems with surrealism and madness, straddling the familiarity of the known and the menace of the unknown, making I Hold a Wolf by the Ears one of the most unforgettable collections of the year." --Adrienne Westenfeld, Esquire

"A perfect embodiment of [van den Berg's] singularly affecting voice . . . Each of these stories grapples with the difficulties of reconciling the fact of our own impermanence on this planet, and struggles with the idea that, even though transience might be a fact of life, that doesn't prevent us from finding meaning within all the chaos." --Refinery29

"These women are haunted by specters of their past, often left unspecified by van den Berg, who instead drops references to traumatic events and lets the reader piece them together — it isn't the event she's interested in, but rather its echoes, and their disorienting and sublimating effects on a person's sense of self." --Buzzfeed

"Laura Van Den Berg has the uncanny ability to see what the rest of us cannot, and her newest story collection, the hauntingly titled I Hold A Wolf By The Ears, is a seductive, eerie plunge that subverts the mundane . . . As ever, Van Den Berg is unafraid of the fearsome, and she forces her readers to always look a little closer at the monsters within." --ELLE

"Van den Berg is one of our most ingenious bards of the unsayable. I Hold a Wolf by the Ears carries forward the DNA of her other books, but it's her best yet. With this collection, she invents a grammar to reconstitute the unease that flows beneath the surfaces of ordinary, mundane America." --Anita Felicelli

"Unnerving and nuanced narratives on contemporary womanhood . . . Throughout, van den Berg's voice is disquieting and aware as she picks apart the culture that both surrounds and suffocates her female characters." --TIME

"[I Hold a Wolf by the Ears] grabs readers by the hand and leads them through stories of sisterhood, abandonment, natural disaster, and the hatred and horror that lie at the center of a society that is stacked against women . . . van den Berg's language is equal parts delightful and fucked up . . . Van den Berg's characters all tell their stories to you, like you're a friend sitting with them in the bar car, landscape sliding along outside the window ignored as we lean in so no one else will hear. These stories are jagged, we open a door and we're in them, living them; when the door clicks shuts a few pages later there is no doubt that the story is still playing out on the other side." --Leah Schnelbach, tor.com

"Van den Berg is a writer of wonderous understatement. Her stories end with readers feeling they have Wile E Coyote'd their way off a cliff and are only now realizing there is no ground left beneath them. Van den Berg's introspective narration assures she is falling with us and is just as scared to find out where we are going to land—if we are going to survive." --Carl Lavigne, Ploughshares

"Van den Berg is good at creating these strange, relatable worlds with the use of her language. She crafts long, ornate sentences that drift in rich detail, counterbalancing with short fragments, quick jabs to a thought . . . These characters, like the rest in this collection, are all suffering from some sort of past love or a love that can never be. It is something, like many of van den Berg's themes and ghosts, most of us, if not all, can certainly relate to." --Cariss Chesanek, Brooklyn Rail

"In a year where sometimes sitting down to read a novel felt beyond the ability of my postpartum, pandemic-addled brain, Laura van den Berg's ghostly short story collection was a perfect, strange balm. Were stories of rattled women, on the edge of reality really what would provide me calm and solace during the short moments I had to read? Surprisingly, yes. These were stories of violence, fear, death, and misogyny, across Florida, Mexico City, and Iceland. Van den Berg's meditations (and revelations) on the human condition always feel incredibly poignant, but it's the sentence-level writing that's the real-knock out throughout the collection. I just loved every story in this book." --Lit Hub

"A series of eerie, unsettling shorts that seem to be founded on an arresting premise: that the way women in contemporary society experience the world is best understood as a psychological horror story . . . every uncanny happening reveals a deeper, more mundane truth about what it's like to live as a woman in this world, pointing to a subtle undercurrent of dread that so permeates every facet of our lives we hardly notice it's there. Van den Berg's stories amplify that feeling, forcing readers to confront it and recognize it for what it is . . . van den Berg's writing is electrifying in the truest sense of the word: shocking, searing and illuminating." --Michael Patrick Brady, WBUR (Boston)

"The 11 delicious morsels in this collection explore grief, misogyny, friendship, violence and other topics with an approach that's both fairy tale and ghost story . . . The stories are haunting, unsettling and absolutely unique . . . Find your way inside this collection, and you'll lose yourself in the most glorious, unforgettable way." --Suzanne Perez, KMUW (Wichita)

"The collection does not disappoint, often digging into political topics — primarily, the ways misogyny harms — in smart and nuanced ways. My favorite was "Volcano House," the story of two sisters who travel to Iceland, where one sister is struck by a bullet in a mass shooting in a park. Van Den Berg's writing is so captivating and incisive, particularly when dealing with horrific topics." --Hey Alma

"Startling, precise . . . Van den Berg maintains an unsettling tone throughout these darkly imagined tales. This collection shows the author at her best." --Publishers Weekly (starred review)

"a richly imaginative collection that skillfully exposes vulnerable women to grief, messy relationships, misogyny, and prejudices, while equipping them with a fiery tenacity . . . In these 11 perceptive stories, Van den Berg displays her literary talents with acerbic acumen as she portrays indelible characters brimming with verve that is hungry and wild." --Booklist (starred review)

"All 11 stories here are sharp as they are haunting; in this world—maybe like the real one—nothing is exactly what it seems. . .The stories here, vibrating with loss, but wickedly funny, are a distinctly van den Berg-ian hybrid, as biting as they are dreamy. Witty, painful, and thoroughly unsettling." --Kirkus (starred review)

"Laura van den Berg leads her characters into bizarre and life-changing situations--all the more powerful for their underlying emotional resonance--in her thrilling and uncanny collection of stories . . . I Hold a Wolf by the Ears is not only a testament to the power of the short story, but to how, cumulatively, a collection can sustain an entire ethos and atmosphere. Van den Berg is a maestro of the form, and these stories shouldn't be missed." --Shelf Awareness

"van den Berg serves up an assortment of complex and satisfying not–quite–ghost stories. . .These well-crafted and intelligent stories about the many ways a life can be haunted will gratify readers who enjoy perceptive, slightly gothic tales." --Library Journal

"Another bravura display from one of our most imaginative storytellers. Each enthralling new plot seeks to uncover the essence of human experience by way of the uncanny. As enchanting as fairy tales, as mysterious as dreams, these exquisitely composed fictions are as urgent and original as any being written today." —Sigrid Nunez, author of The Friend, winner of the 2018 National Book Award for Fiction

"Unflinching, chilling and electric, with flashes of sly wit, these stories and the women who complicate them blaze a new literary trail, guided by the author's skilled hand. What Laura van den Berg has done with this collection is extraordinary." —Lesley Nneka Arimah, author of What It Means When A Man Falls From The Sky

"Laura van den Berg has this uncanny ability to strip away the window dressing that her characters, like us all, attempt to hide behind. Fears, anxieties, nightmares all rise to the surface. So tempting to make comparisons, throw around names like Jackson, O'Connor, even Renata Adler who makes a tiny cameo. No need: van den Berg is van den Berg and I was as stunned by the stories in I Hold a Wolf by the Ears as I was beautifully unsettled by them." —Peter Orner, author of Maggie Brown & Others

"These are stories about wandering and being invisible, about stepping in a cold shadow. Laura van den Berg puts into words how scary it is when you feel you're disappearing, when a disaster, personal or historical, makes ghosts of us, forever trapped in the trauma. They are also very beautiful, sometimes surreal and even funny stories, about loss and grief and sadness and the lives we try to leave behind. I think this collection will haunt me for a long time." —Mariana Enriquez, author of Things We Lost in the Fire

"You might be tempted to race through all 11 stories in Van Den Berg's new collection, her first since Isle of Youth in 2013. This would be unwise, because haste and haunting are incompatible, and you really need to live with these ghosts, to slow your eyes over their uncanny weirdness until you're both unsettled and seen—the hallmark quality of van den Berg's writing." --The Millions