Last Boat Out of Shanghai: The Epic Story of the Chinese Who Fled Mao's Revolution (Paperback)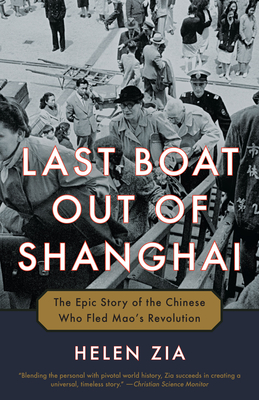 $18.00

Not currently in store. Available to ship from distributor's warehouse.
Description
---
The dramatic real life stories of four young people caught up in the mass exodus of Shanghai in the wake of China's 1949 Communist revolution—a heartrending precursor to the struggles faced by emigrants today. 

"A true page-turner . . . [Helen] Zia has proven once again that history is something that happens to real people."—New York Times bestselling author Lisa See

NAMED ONE OF THE BEST BOOKS OF THE YEAR BY NPR AND THE CHRISTIAN SCIENCE MONITOR • FINALIST FOR THE PEN/JACQUELINE BOGRAD WELD AWARD FOR BIOGRAPHY

Shanghai has historically been China's jewel, its richest, most modern and westernized city. The bustling metropolis was home to sophisticated intellectuals, entrepreneurs, and a thriving middle class when Mao's proletarian revolution emerged victorious from the long civil war. Terrified of the horrors the Communists would wreak upon their lives, citizens of Shanghai who could afford to fled in every direction. Seventy years later, members of the last generation to fully recall this massive exodus have revealed their stories to Chinese American journalist Helen Zia, who interviewed hundreds of exiles about their journey through one of the most tumultuous events of the twentieth century. From these moving accounts, Zia weaves together the stories of four young Shanghai residents who wrestled with the decision to abandon everything for an uncertain life as refugees in Hong Kong, Taiwan, and the United States.

Benny, who as a teenager became the unwilling heir to his father's dark wartime legacy, must decide either to escape to Hong Kong or navigate the intricacies of a newly Communist China. The resolute Annuo, forced to flee her home with her father, a defeated Nationalist official, becomes an unwelcome exile in Taiwan. The financially strapped Ho fights deportation from the U.S. in order to continue his studies while his family struggles at home. And Bing, given away by her poor parents, faces the prospect of a new life among strangers in America. The lives of these men and women are marvelously portrayed, revealing the dignity and triumph of personal survival.

Herself the daughter of immigrants from China, Zia is uniquely equipped to explain how crises like the Shanghai transition affect children and their families, students and their futures, and, ultimately, the way we see ourselves and those around us. Last Boat Out of Shanghai brings a poignant personal angle to the experiences of refugees then and, by extension, today.

"Zia's portraits are compassionate and heartbreaking, and they are, ultimately, the universal story of many families who leave their homeland as refugees and find less-than-welcoming circumstances on the other side."—Amy Tan, author of The Joy Luck Club
About the Author
---
Helen Zia is the author of Asian American Dreams: The Emergence of an American People, a finalist for the Kiriyama Pacific Rim Book Prize (Bill Clinton referred to the book in two separate Rose Garden speeches). Zia is the co-author, with Wen Ho Lee, of My Country Versus Me: The First-Hand Account by the Los Alamos Scientist Who Was Falsely Accused of Being a Spy. She is also a former executive editor of Ms. magazine. A Fulbright Scholar, Zia first visited China in 1972, just after President Nixon's historic trip. A graduate of Princeton University, she holds an honorary doctor of laws degree from the City University of New York School of Law and lives in the San Francisco Bay Area.
Praise For…
---
"Blending the personal with pivotal world history, Zia succeeds in creating a universal, timeless story. . . . Gathered, analyzed, and distilled with insight and meticulous documentation, Zia's book gives voice to a history almost lost."—The Christian Science Monitor

"A deftly woven, deeply moving chronicle of the extraordinary ordeals of four ordinary Chinese in a world torn by war and fractured by ideology . . . a fascinating read as an intimate family memoir, as well as a missing chapter of modern history finally coming to light . . . What makes the Shanghai story unique . . . is that we didn't really know the story. Except in some films and novels that make passing references to this episode of Chinese history—often as a nostalgic backdrop, equivalent to a crowd scene in cinematic terms—the real human cost of the massive exodus has remained a mystery. Official records, if any, are suppressed, and research in this area has been sketchy. In this sense, Helen Zia's new book, Last Boat Out of Shanghai: The Epic Story of the Chinese Who Fled Mao's Revolution . . . fills a gap in our collective memory."—San Francisco Chronicle

"Beautifully crafted, carefully researched . . . Last Boat Out of Shanghai is an engaging work of high-quality popular history. It has things to offer not just to general readers with little knowledge about the city's intriguing past, but even to specialists. . . . Ms. Zia lets us eavesdrop on the conversations in 'hushed voices' of several people whose childhoods are brought vividly to life. . . . Last Boat Out of Shanghai is so good I'll certainly need to add it to the syllabus for my class. That means something else will have to go—or my students will simply have four hundred more pages of fascinating reading."—Jeffrey N. Wasserstrom, The Wall Street Journal

"The dramatic story of four young people who were among the thousands fleeing China after 1949's Communist revolution. Eye-opening."—People

"Zia's portraits are compassionate and heartbreaking, and they are, ultimately, the universal story of many families who leave their homeland as refugees and find less-than-welcoming circumstances on the other side. I read with a personal hunger to know the political and personal exigencies that led to those now-or-never decisions, for they mirror the story of my own mother, who also left on virtually the last boat out of Shanghai."—Amy Tan, author of The Joy Luck Club

"I have long been an admirer of Helen Zia's writing and scholarship, but Last Boat Out of Shanghai is at a whole new level. It's a true page-turner. Zia has proven once again that history is something that happens to real people. I stayed up late reading night after night, because I wanted to know what would happen to Benny, Ho, Bing, Annuo, and their friends and families."—Lisa See, author of The Tea Girl of Hummingbird Lane