Storm on the Horizon: Khafji--The Battle That Changed the Course of the Gulf War (Mass Market)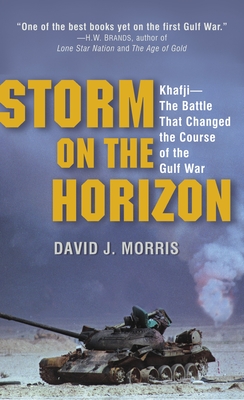 Description
---
On January 29, 1991, Saddam Hussein hurled three crack armored divisions into Saudi Arabia, determined to stop the American attempt to liberate Kuwait before it began. Caught without warning in the path of the Iraqi juggernaut were small groups of U.S. Marines and Special Forces soldiers, their weapons no match for the Iraqi tanks bearing down on them.

Based on scores of firsthand reports and newly declassified documents, Storm on the Horizon is a riveting account of how these elite fighting men not only escaped the Iraqi onslaught but fought their way to victory with true American grit. From the ferocious desert attacks to the desperate street fighting in Khafji, Marine David Morris captures the ordeal through the eyes of men who fought it, giving readers a front-row seat to the bloodiest battle of the Gulf War.
About the Author
---
David J. Morris is a former Marine rifle platoon commander. He is a graduate of Texas A&M University and holds an M.A. in literature from San Diego State University. His work has appeared in Salon and Rock and Ice. He lives in San Diego.
Praise For…
---
"One of the best books yet on the first Gulf War."
–H.W. Brands, author of Lone Star Nation and The Age of Gold

"This is the story no one thought could be told about the Gulf War, but David Morris has done so magnificently. . . . These Marines come alive as blood brothers, and their story becomes our story."
–Doug Stanton, bestselling author of In Harm's Way: The Sinking of the USS Indianapolis and the Extraordinary Story of Its Survivors

"A HELL OF A STORY."
–General Chuck Horner, commander of U.S. air forces in the Gulf War