The Coldest Girl in Coldtown (Paperback)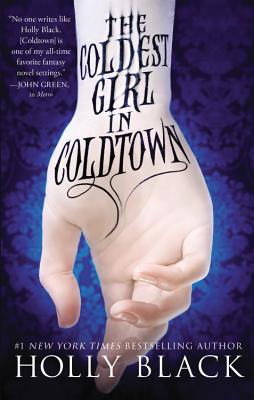 Description
---
Coldtown was dangerous, Tana knew. A glamorous cage, a prison for the damned and anyone who wanted to party with them.
Tana lives in a world where walled cities called Coldtowns exist. In them, quarantined monsters and humans mingle in a decadently bloody mix of predator and prey. And once you pass through Coldtown's gates, you can never leave.
One morning, after a perfectly ordinary party, Tana wakes up surrounded by corpses. The only other survivors of this massacre are her exasperatingly endearing ex-boyfriend, infected and on the edge, and a mysterious boy burdened with a terrible secret. Shaken and determined, Tana enters a race against the clock to save the three of them the only way she knows how: by going straight to the wicked, opulent heart of Coldtown itself.
About the Author
---
Holly Black is the author of bestselling contemporary fantasy books for kids and teens. Some of her titles include The Spiderwick Chronicles (with Tony DiTerlizzi), the Modern Faerie Tale series, the Curse Workers series, Doll Bones, and her new novel, The Coldest Girl in Coldtown. She was a finalist for the Mythopoeic Award, a finalist for an Eisner Award, and a recipient of the Andre Norton Award. She currently lives in New England with her husband, Theo, in a house with a secret door. Her website is www.blackholly.com.
Praise For…
---
An Amazon Best Teen Book of 2013
A TAYSHAS Top Ten Book of the Year
A NPR Great Read of 2013
A SLJ Best Book of the Year
A YALSA Best Fiction for Young Adults
A YALSA Top Ten Amazing Audio Books
A Kirkus Best YA Books
"We've all read a million YA vampire stories at this point, but no one writes like Holly Black: Her worlds are funny and eerily vivid, and Coldtown-a rollicking and decadent ghetto-is one of my all-time favorite fantasy novel settings."—
Author of The Fault in Our Stars John Green, Metro New York
"A dark...edge-of-your-seat read."—
Entertainment Weekly
* "You may be ready to put a stake in vampire lit, but read this first: It's dark and dangerous, bloody and brilliant."—
Kirkus (starred review)
* "Teens with a yen for dark, futuristic novels, and maybe even a few Anne Rice readers, will find this a refreshing take on vampire lit. As always, Black's writing is quick paced and thought-provoking. A must-have for any teen collection."—
School Library Journal (starred review)
* "With rapid-fire dialogue, lavish details, and a wildly imagined world, this will enthrall Black's fans from start to finish and leave them hoping for another bone-chilling vicarious tour of Coldtown."—
Booklist (starred review)*
"Replete with grisly violence, an intriguingly complex take on the mechanics of vampirism, and well-developed and memorable characters, this superior, dread-soaked tale will satisfy vampire addicts of all ages."—
Publishers Weekly (starred review)
"Black's compelling prose, descriptive yet direct, conjures a modern gothic world populated by cruel immortals, desperate humans offering themselves as food, and a few hardscrabble survivors. Tana is a winning heroine, by turns staking killer vampires and giving herself over to Gavriel's deep, smoldering kisses."—
The Horn Book
"This is a solidly paced adventure studded with the occasional steamy encounter, so readers familiar with Black's mix of emotional depth and outstanding world-building will not be disappointed."—
BCCB
"Written beautifully, with a really rich setting and complex characters."—
Veronica Roth, author of Divergent