The Ice Man: Confessions of a Mafia Contract Killer (Mass Market)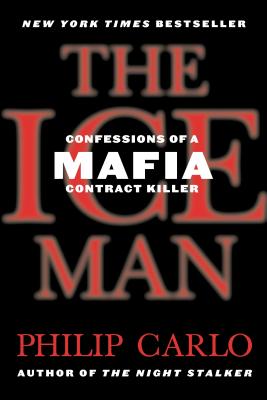 Find us on Bookshop.org to order!
Description
---
Philip Carlo's The Ice Man spent over six weeks on the New York Times Bestseller List. Top Mob Hitman. Devoted Family Man. Doting Father. For thirty years, Richard "The Iceman" Kuklinski led a shocking double life, becoming the most notorious professional assassin in American history while happily hosting neighborhood barbecues in suburban New Jersey.

Richard Kuklinski was Sammy the Bull Gravano's partner in the killing of Paul Castellano, then head of the Gambino crime family, at Sparks Steakhouse. Mob boss John Gotti hired him to torture and kill the neighbor who accidentally ran over his child. For an additional price, Kuklinski would make his victims suffer; he conducted this sadistic business with coldhearted intensity and shocking efficiency, never disappointing his customers. By his own estimate, he killed over two hundred men, taking enormous pride in his variety and ferocity of technique.

This trail of murder lasted over thirty years and took Kuklinski all over America and to the far corners of the earth, Brazil, Africa, and Europe. Along the way, he married, had three children, and put them through Catholic school. His daughter's medical condition meant regular stays in children's hospitals, where Kuklinski was remembered, not as a gangster, but as an affectionate father, extremely kind to children. Each Christmas found the Kuklinski home festooned in colorful lights; each summer was a succession of block parties.

His family never suspected a thing.

Richard Kuklinski is now the subject of the major motion picture titled "The Iceman"(2013), starring James Franco, Winona Ryder, Ray Liotta, and Chris Evans.
About the Author
---
Philip Carlo was the author of The Ice Man: Confessions of a Mafia Contract Killer, his New York Times bestselling book about Richard "Ice Man" Kuklinski, murderer of 200 people and a favorite among all seven of the East Coast crime families. He was also the author of Gaspipe, The Butcher, and The Night Stalker, which chronicles the brutal career of serial killer Richard Ramirez. Carlo grew up in Bensonhurst, Brooklyn, amidst the world's highest concentration of Mafia members. When he was 16, Carlo was shot in the head in a gang war, and while recuperating, he read voraciously, discovering the magic of books for the first time. His intimate knowledge of Mafia culture—their walk and their talk—helped Carlo become a successful crime writer. He died in 2010 from ALS.
Praise For…
---
"Carlo effectively tells the life story of the family man who spent thirty years as a professional killer, while hosting barbecues in suburban New Jersey." —New York Post

"A hell of a book, a brutal page-turner." —Larry King

"Philip Carlo captured the essence of who my husband was." —Barbara Kuklinski

"Spine-chilling…readers will become so engrossed in the details that they'll forget that this is a true story." —Library Journal

"Reading The Ice Man left me cold, perplexed, horrified. No one today writing about the criminals, the streets, has the insight and innate knowledge of the criminal mind. I highly recommend this book." —Joey Reynolds, host of WOR Radio

"Carlo writes with the sharpness of a stiletto. His words are cutting and brutal and meaningful. I could not put The Ice Man down. It is the most compelling book I have ever read." —Louis Free, the Heartland Radio Show

"What Philip Carlo did was capture the heart and soul of Richard Kuklinski. I could not put his book down." —HBO Producer Gaby Monet

"Both my wife and I read this book. While we were reading the book, neither one of us spoke to the other for days." —George Nooray, Coast to Coast Radio