Red Cloud at Dawn: Truman, Stalin, and the End of the Atomic Monopoly (Paperback)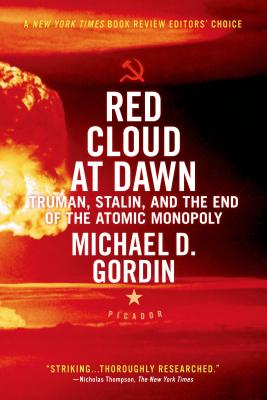 $28.00

Not currently in store. Available to ship from distributor's warehouse.
(This book cannot be returned.)
Description
---
A NEW YORK TIMES BOOK REVIEW EDITORS' CHOICE

On August 29, 1949, the first Soviet test bomb, dubbed "First Lightning," exploded in the deserts of Kazakhstan. This surprising international event marked the beginning of an arms race that would ultimately lead to nuclear proliferation beyond the two superpowers of the Soviet Union and the United States.

With the use of newly opened archives, Michael D. Gordin folows a trail of espionage, secrecy, deception, political brinksmanship, and technical innovation to provide a fresh understanding of the nuclear arms race.
About the Author
---
Michael D. Gordin is an associate professor of the history of science at Princeton University. He is the author of Five Days in August: How World War II Became a Nuclear War.
Praise For…
---
"Gordin has crafted a quite wonderful book . . . [It] greatly expands what we should know about the contest for nuclear supremacy in the early Cold War. Heartily recommended." —Ed Goedeken, Library Journal

"More than a tale of scientific ingenuity, [Red Cloud at Dawn] probes the human motives of those involved in a high-stakes drama . . . A perceptive study, rich with implications for a twenty-first-century world still fraught with nuclear tensions." —Bryce Christensen, Booklist

"Michael Gordin brings vividly to life the end of the American atomic monopoly. By focusing on what each side knew--and did not know--about the other, he sheds new and original light on the origins of the U.S.-Soviet nuclear arms race. This is a stylish book, with important implications for how we think about nuclear weapons past and present." —David Holloway, author of Stalin and the Bomb

"Nothing about the early cold war can be understood without grasping the terrifying first few years of nuclear weapons. Everything was in play: who would have them, who would control them, would they be used to enforce a pax Americana. Spies, diplomats, treaties, and detonations--nothing gripped decision makers as much as the atomic arsenal, from screaming headlines to the silent intelligence analyses on both sides of the divide. In Red Cloud at Dawn, Michael Gordin zeros in on the crucial years from Hiroshima to the first flash of 'Joe 1' in 1949, the first Russian bomb and the ninth nuclear explosion. Using a spectacular variety of sources from Soviet and American sources, Gordin gives us a book that must be read to understand how we came to the sprawling nuclear proliferation in which we now live." —Peter Galison, Joseph Pellegrino University Professor, Harvard University

"Beginning with Truman's revelation to Stalin that the United States had an unusually powerful weapon, Michael Gordin tells the story of the Soviet A-bomb and the origins of the Cold War arms race. The 'dialectical dance' of the superpowers entailed a deadly embrace that cost millions but miraculously avoided nuclear holocaust. This is a story of intelligence in both senses of the word--of spies and scientists, of information rather than simply fissionable material and devices. The red mushroom cloud rose on August 29, 1949, and, as Gordin's compelling narrative shows, the fallout, in its many senses, remains with us today." —Ronald Suny, Charles Tilly Collegiate Professor of Social and Political History, University of Michigan