Kill Bin Laden: A Delta Force Commander's Account of the Hunt for the World's Most Wanted Man (Paperback)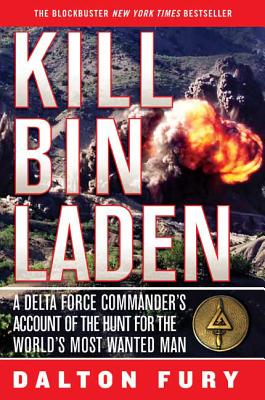 $18.99
Not currently in store. Available to ship from distributor's warehouse.
Description
---
The mission was to kill the most wanted man in the world—an operation of such magnitude that it couldn't be handled by just any military or intelligence force. The best America had to offer was needed. As such, the task was handed to roughly forty members of America's supersecret counterterrorist unit formally known as 1st Special Forces Operational Detachment-Delta; more popularly, the elite and mysterious unit Delta Force.

This is the real story of the operation, the first eyewitness account of the Battle of Tora Bora, and the first book to detail just how close Delta Force came to capturing bin Laden, how close U.S. bombers and fighter aircraft came to killing him, and exactly why he slipped through our fingers. Lastly, this is an extremely rare inside look at the shadowy world of Delta Force and a detailed account of these warriors in battle.
About the Author
---
DALTON FURY was the senior ranking military officer at the Battle of Tora Bora. As a Delta troop commander he led ninety-one other Western special operations commandos and support personnel and helped author the operation to hunt and kill bin Laden. He told his tale of that mission in the book, Kill Bin Laden, which went on to become a national bestseller. Dalton Fury passed away in 2016.
Praise For…
---
"A riveting account of one of the most important--but also least understood--battles in the war on terror." —Time

"The best book ever written by a special operations insider. This guy Fury's men are the real-deal Delta Force operators. You need to know what happened at Tora Bora, and this great book will tell you." —Colonel David Hunt, U.S. Army (Ret.), New York Times bestselling author of They Just Don't Get It and On the Hunt, and FOX News special ops and counterterrorism analyst

"Special Forces Operational Detachment-Delta is without doubt one of the most fearsome military units ever assembled. Delta officer Dalton Fury didn't just take part in the battle of Tora Bora, he commanded all the special operations troops, both U.S. and British, who were there. Kill Bin Laden is a proud, riveting, warts-and-all account of that battle, one of the most important special operations missions of all time." —Michael Smith, author of Killer Elite: The Inside Story of America's Most Secret Special Operations Team

"An important, must-read book about real warriors." —Cofer Black, former chief of the Central Intelligence Agency's Counter Terrorist Center