Choosing Civility: The Twenty-five Rules of Considerate Conduct (Paperback)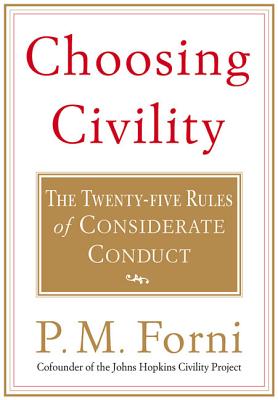 $16.99

Not currently in store. Available to ship from distributor's warehouse.
Description
---
Most people would agree that thoughtful behavior and common decency are in short supply, or simply forgotten in hurried lives of emails, cellphones, and multi-tasking. In Choosing Civility, P. M. Forni identifies the twenty-five rules that are most essential in connecting effectively and happily with others. In clear, witty, and, well...civilized language, Forni covers topics that include:

* Think Twice Before Asking Favors
* Give Constructive Criticism
* Refrain from Idle Complaints
* Respect Others' Opinions
* Don't Shift Responsibility and Blame
* Care for Your Guests
* Accept and Give Praise

Finally, Forni provides examples of how to put each rule into practice and so make life-and the lives of others-more enjoyable, companionable, and rewarding.

Choosing Civility is a simple, practical, perfectly measured, and quietly magical handbook on the lost art of civility and compassion.

"Insightful meditation on how changing the way we think can improve our daily lives. ... A deft exploration that urges us to think before speaking." —Kirkus, Starred Review
About the Author
---
Dr. P.M. Forni (1951-2018) was an award-winning professor of Italian Literature at Johns Hopkins University. In 2000 he founded The Civility Initiative at Johns Hopkins and taught courses on the theory and history of manners. He is the author of Choosing Civility: The Twenty-five Rules of Considerate Conduct (2002), The Civility Solution: What to Do When People Are Rude (2008) and The Thinking Life: How to Thrive in the Age of Distraction (2011). Reports on his work have appeared on The New York Times, The Times of London, The Washington Post, The Wall Street Journal, and The Los Angeles Times. He has been a on a number of radio and television shows, including ABC's World News Tonight, CBS Sunday Morning and BBC's Outlook. He lived in Baltimore, Maryland.
Praise For…
---
"Small but mighty new reference...the only book I can recommend to all audiences....P.M. Forni deserves great acclaim for developing such potent yet easy to digest remedies for many of today's ills." —Daniel Buccino, METAPSYCHOLOGY ONLINE

"Choosing Civility is one of those rare gems one never expected to find but always hoped would appear. Professor Forni writes with wit, force, and grace on a subject that has become all too hoity-toity. Forni reclaims manners from the mantlepiece and grounds his advice in the details of everyday life. This book is about how we ought to treat each other. What could be more important than that?" —Edward Hallowell, M.D., author of Connect and The Childhood Roots of Adult Happiness

"Choosing Civility is a beautiful book that lifts the spirit, warms the heart, and provides clear direction for a balanced life. Dr. Forni gently guides the reader to relationship insights that assure love, joy and meaningful friendship. Anyone interested in living a civil and worthwhile life should read this book." —Arthur P. Ciaramicoli, Ed D., PhD, Author of The Power of Empathy