Marathon Woman: Running the Race to Revolutionize Women's Sports (Paperback)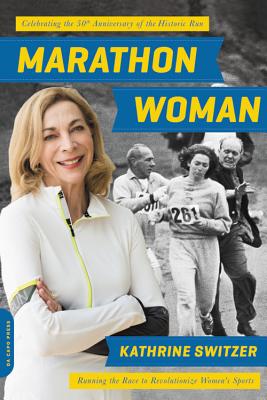 $19.99

Not currently in store. Available to ship from distributor's warehouse.
Description
---
A new edition of a sports icon's memoir, coinciding with the 50th anniversary of Kathrine Switzer's historic running of the Boston Marathon as the first woman to run.

In 1967, Kathrine Switzer was the first woman to officially run what was then the all-male Boston Marathon, infuriating one of the event's directors who attempted to violently eject her. In one of the most iconic sports moments, Switzer escaped and finished the race. She made history-and is poised to do it again on the fiftieth anniversary of that initial race, when she will run the 2017 Boston Marathon at age 70. Now a spokesperson for Reebok, Switzer is also the founder of 261 Fearless, a foundation dedicated to creating opportunities for women on all fronts, as this groundbreaking sports hero has done throughout her life.

"Kathrine Switzer is the Susan B. Anthony of women's marathoning."-Joan Benoit Samuelson, first Olympic gold medalist in the women's marathon
About the Author
---
Kathrine Switzer, one of the greatest icons in sports, has been an authority on running and women's fitness for over forty years. She is best known for pioneering the official entrance of women into the marathon, beginning with her epoch-making run in the previously all-male Boston Marathon in 1967, and went on to become a world-ranked athlete and the winner of the 1974 New York Marathon.

Switzer is an Emmy-award winning television commentator, having covered a continuous string of the sport's major events, including the Boston, New York, Pittsburgh, and Los Angeles marathons, as well as the Olympic and Goodwill Games. Her first book, Running and Walking for Women Over 40, has sold over 100,000 copies. She lives in New Paltz, NY.
Praise For…
---
"A thoughtfully written memoir...[Switzer is] still running strong; she's headed back to Boston this year to celebrate the 50th anniversary of her 1967 pioneering run, making this a perfect time to brush up on running history."
—Mother Runner

"Women all over the world run, and it is due, in large part, to Kathrine's efforts."—Joann Flaminio, 1st woman President of the Boston Athletic Association, overseer of the Boston Marathon

"Kathrine Switzer gives us all a huge life lesson on how to turn negatives into positives. It's about always showing up, working hard, and never, ever quitting."—Meb Keflezighi, Olympic Marathon Silver Medal, 4-time Olympian, New York City and Boston Marathon Champion, author, Meb for Mortals and Run To Overcome

"Kathrine Switzer helped change women's running forever. She tells her story--full of surprises, unexpected twists, setbacks, and Olympic triumphs--with a mix of humor and sharply-recalled anecdote that never fails to engage."—Amby Burfoot, 1968 Boston Marathon winner; author, First Ladies of Running; Editor at Large, Runner's World

"Perhaps the best that can be said of any of us is that we have made a difference. Kathrine has, and we see it at the Boston Marathon every year."
—Tom Grilk, Executive Director, Boston Athletic Association, 2:49 marathoner, and perennial Boston Marathon finish line announcer

"Marathon Woman is told with humor and style and is as uplifting and inspirational as was her run back in 1967."
—George A. Hirsch, marathoner and chairman of the New York Road Runners

"Kathrine Switzer clearly propelled women running in to the global phenomena it is today and the struggle she endured even before Chapter IX Is the stuff strong women are made of."—Gloria Ratti, Vice President, Boston Athletic Association

"Marathon Woman is infused with grace and humor, determination and inspiration. And unlike a real marathon--26.2 miles that can stretch on seemingly forever--we didn't want this book to ever end!"
—Dimity McDowell & Sarah Bowen Shea, runners and authors of Run Like a Mother, Train Like a Mother and founders of "Another Mother Runner"

Running may be the connective tissue, but the true essence of Kathrine's journey is a passage to a bigger world. Fifty years ago Kathrine opened the door and literally thousands of women ran through.
—Bart Yasso, Chief Running Officer, Runners World; author, My Life On The Run

"Kathrine Switzer is a living metaphor of strength and courage, inspiring millions of girls and women to turn You can't into I can. Since that pivotal moment fifty years ago, she has shown us the power we each have to use our personal experiences to create lives of meaning and purpose."—Elizabeth Kunz, CEO, & Kathryn Thompson, COO, Girls on the Run International

"As the father of a young daughter, I am forever grateful that Kathrine had the courage to step out on that racecourse back in 1967, blaze a path that has strengthened and endured for five decades and shows no sign of slowing down, just like Kathrine herself. Marathon Woman is timeless, as is she."—Dean Karnazes, Ultramarathoner and NY Times bestselling author

"At times laugh-out-loud funny, at others inspirational and educational, this is the incredible story of Kathrine Switzer's gutsy fight for women to be allowed to participate in long-distance running. By relating her own passion for running, Kathrine is bound to ignite yours!"—Lisa Jackson, Contributing Editor to Women's Running UK magazine, best-selling author of Your Pace or Mine? and Running Made Easy; and veteran of 105 marathons

"Kathrine Switzer is the spiritual leader, emotional center, activist spark plug and intellectual depth of the global women's running boom. Marathon Woman is simply a page-turning must read."
—Margaret Webb, author, Older Faster Stronger: What Women Runners Can Teach Us All About Living Younger Longer and running blogger at MargaretWebb.com

"As we celebrate so many advancements for women, now we celebrate 50 years since Kathrine Switzer busted through the glass starting line. In her captivating memoir, Marathon Woman, she reminds us of the gift we have, and the responsibility we have to share it, celebrate it, and be grateful for it."—Kristin Armstrong, Contributing Editor for Runner's World, author, Mile Markers: The 26.2 Most Important Reasons Why Women Run