Desert Storm: A Forgotten War (Paperback)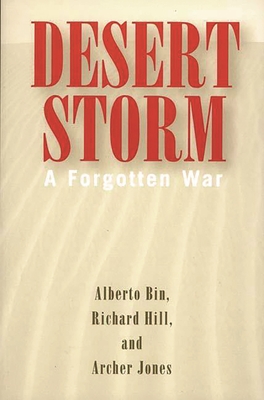 Not currently in store. Available to ship from distributor's warehouse.
Description
---
This account of the Gulf War reveals its importance from a military and political point of view, highlighting how modern military technology made possible, with relative ease, a victory that would have been nearly impossible by traditional means. It has become fashionable to trivialize the impressive military achievements of the Coatition victory over Iraq, but Bin, Hill, and Jones demonstrate that the Gulf War represents a defining moment in military and political history. The text includes numerous firsthand eyewitness accounts.
Readers will discover why a multinational coalition deployed 800,000 soldiers to the Middle East to challenge to the Iraqi invasion of Kuwait. They will find out the truth behind political maneuvering by nations involved in the conflict, as well as those on the sidelines, and they will learn the details of the various weapons systems employed. The authors analyze the aftermath of the war and draw important lessons from it. This book provides an authoritative and provocative review of what will surely be remembered as one of the key events of the last half century.
About the Author
---
Alberto Bin holds a PhD from the Institut des Hautes Etudes Internationales in Geneva, Switzerland. He is the Deputy Director of the Mediterranean Academy of Diplomatic Studies, University of Malta, and holder of the Chair of Mediterranean Diplomacy and Relations. He is also visiting professor at the Department of Political Studies, University of Catania. His research interests include Italian foreign policy, and issues of security and cooperation in the Mediterranean and Middle East.Richard Hill holds a PhD in statistics from Harvard University and a BS degree in mathematics from the Massachusetts Institute of Technology. He has worked for the National Bureau of Economic Research and other organizations as a statistician and an economic analyst, and has taught at Webster University in Geneva, Switzerland. He has visited the Middle East several times.Archer Jones is Professor Emeritus at North Dakota State University. He also served as director of the Institute for Regional Studies which sponsored research and served as the University's press. He is author of numerous articles on military and economic history, and he jointly authored three award-winning Civil War books. His books include Elements of Military Strategy: An Historical Approach (Praeger Publishers, 1996).