The Presidency and the Persian Gulf War (Praeger Series in Presidential Studies) (Hardcover)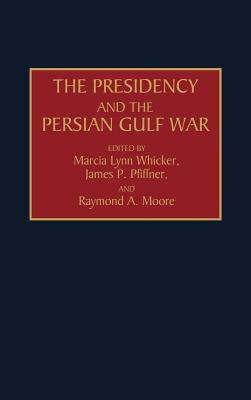 Not currently in store. Available to ship from distributor's warehouse.
Description
---
The book focuses on policy-making at the highest levels of the United States government. Chapter contributors examine political, military, and foreign policy processes from micro and macro perspectives in documenting how President Bush personally dominated U.S. national security policy and was the driving force behind the United Nations-backed coalition of nations against Saddam Hussein. The authors place the president's actions into political and historical perspective and examine the consequences of the Gulf War in both military and diplomatic terms. Among the subjects discussed by experts are the president's political and constitutional roles in war-making; the foreign policy implications and military issues in the war; the domestic implications; and the postwar environment and planning for peace.
About the Author
---
MARCIA LYNN WHICKER is Professor of Public Administration at Rutgers University. She has coauthored eight books, including Sex Role Changes (1985), The Constitution Under Pressure (Praeger, 1987), Making America Competitive (Praeger, 1988), Public Sector Management (1990), and Captive Populations (1990).JAMES P. PFIFFNER is Professor of Government and Politics at George Mason University. He is the author, editor, or coeditor of five books on the presidency.RAYMOND A. MOORE is Distinguished Professor Emeritus in the Department of Government and International Studies at the University of South Carolina. He has authored or coauthored several books, including two Praeger books: The Constitution Under Pressure (1987) and Making America Competitive (1988).