Hayek: A Life, 1899–1950 (Hardcover)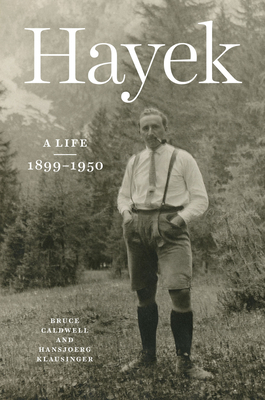 Find us on Bookshop.org to order!
Description
---
A 2022 Economist Best Book of the Year.
The definitive account of the distinguished economist's formative years.

Few twentieth-century figures have been lionized and vilified in such equal measure as Friedrich Hayek—economist, social theorist, leader of the Austrian school of economics, and champion of classical liberalism. Hayek's erudite arguments in support of individualism and the market economy have attracted a devout following, including many at the levers of power in business and government. Critics, meanwhile, cast Hayek as the intellectual forefather of "neoliberalism" and of all the evils they associate with that pernicious doctrine. 

In Hayek: A Life, historians of economics Bruce Caldwell and Hansjörg Klausinger draw on never-before-seen archival and family material to produce an authoritative account of the influential economist's first five decades. This includes portrayals of his early career in Vienna; his relationships in London and Cambridge; his family disputes; and definitive accounts of the creation of The Road to Serfdom and of the founding meeting of the Mont Pèlerin Society. 

A landmark work of history and biography, Hayek: A Life is a major contribution both to our cultural accounting of a towering figure and to intellectual history itself. 
About the Author
---
Bruce Caldwell
is research professor of economics and the director of the Center for the History of Political Economy at Duke University. He is the general editor of the Collected Works of F. A. Hayek series, also published by the University of Chicago Press. 
Hansjoerg Klausinger is associate professor emeritus in the Department of Economics at WU Vienna University of Economics and Business.
Praise For…
---
"A fascinating, readable biography of Friedrich Hayek. . . The book punctures some long-standing myths about Hayek . . . [and] deserves a wide audience."
— The Economist

"An engrossing story . . . [and] as detailed an account of the first half of Hayek's life as anyone could ask for."
— Literary Review

"A propulsive read. The authors are expert guides to Hayek's intellectual evolution. . . . [but] they are also perceptive guides to Hayek's private life. . . . Caldwell and Klausinger have triumphantly succeeded."
— Prospect

"No one is likely to repeat this feat. . . . This is the definitive Hayek for our times."
— Robert Skidelsky

"The story, presented here with more detail than anyone has previously unfolded, is a simple and tragic one. . . . [Hayek's] was a spectacular achievement, but one, in the end, that could not have been made by a gregarious man of deep friendships and profound personal commitments."
— Times Literary Supplement

"A gloriously detailed and thoroughly reliable account of the first half of Hayek's life."
— London Review of Books

"Anybody curious about [Hayek] is well served by the exhaustive account written by two historians of economic thought."
— New Statesman

"In mind-stunning detail . . . Caldwell and Klausinger tell everything about Hayek's youth you wanted to know but were afraid to ask."
— Deirdre Nansen McCloskey

"The Hayek who emerges from this text is somewhat of a charming loner who maintained distance between himself and all but a small number of individuals . . . The fullness of Caldwell and Klausinger's picture of Hayek's life and ideas owes much to their comprehensive study of primary sources." 
— Law & Liberty

"One of the best biographies of any economist, covers anything you might wish to know, and with conceptual understanding. This is a fantastic book."
— Marginal Revolution

"Caldwell and Klausinger have created an authoritative and superbly researched biography about one of the greatest intellectuals of the twentieth century . . . Based on tireless archival work, the authors have painstakingly assembled innumerable existing details regarding Hayek's life and scientific work from an astonishing array of sources in order to create a coherent picture of one of the most complex and intriguing social scientists. This makes the book a thoughtful work and one of the finest biographies of economists."
— Journal of the History of Economic Thought

"A magnificent achievement. Caldwell and Klausinger bring Hayek alive; they also bring his world alive. This is riveting reading, taken as biography, and it's much more than that. It casts a bright new light on Hayek's era, and on our own."
— Cass R. Sunstein, coauthor of 'Nudge: Improving Decisions about Health, Wealth, and Happiness'

"Hayek: A Life, 1899–1950 is a triumph of both scholarship and biography. Caldwell and Klausinger have given us an instant classic, sure to stimulate and enrich debates about this most controversial, and still misunderstood, economist and social philosopher."
— Joel Isaac, author of 'Working Knowledge: Making the Human Sciences from Parsons to Kuhn'

"Admirers and opponents of Hayek alike will find much to savor in this deeply researched, sweeping biography. Even readers who well know Hayek and his times will be enlightened and enriched."
— Jennifer Burns, author of 'Goddess of the Market: Ayn Rand and the American Right'

"Hayek: A Life, 1899–1950 is brilliant, comprehensive, and engaging. For any historian, social scientist, or philosopher interested in how ideas shaped the twentieth century and how the events of the twentieth century framed intellectual discourse, this is a must-read."
— Peter Boettke, author of 'Living Economics: Yesterday, Today, and Tomorrow'

"By far the most careful and comprehensive treatment of his early life and works, Hayek: A Life, 1899–1950 is an invaluable resource, full of remarkable discoveries."
— Angus Burgin, author of 'The Great Persuasion: Reinventing Free Markets since the Depression'

"This is without any doubt an out-standing biography that should become the go-to account of Hayek's life as an economist."
— Business Economics

"A profound and trustworthy biography."
— Frankfurter Allgemeine Zeitung

"A monumental biography."
— Future of Freedom Foundation

"Excellently researched . . . this biography offers exciting insights."
— Der Standard (Austria)

"As the authors state, they intended this to be the definitive biography and they have achieved this ambition."
— The Enlightened Economist

A 2022 Notable Book
— Seminary Co-Op

"This book is in every sense a monumental undertaking, for which we should be profoundly grateful."
— The Critic

"This first volume of a monumental recounting of his life and thought will contribute to establishing [Hayek] firmly as one of the principal economists of the twentieth century."
— Economic Affairs

"A fascinating hybrid between personal and intellectual biography . . . the biography is a major publishing event for everyone interested in Hayek's intellectual development . . . We can now contemplate more deeply and with greater confidence the question as to what made Hayek a prominent economist, indeed one of the most accomplished and lauded economists of the twentieth century."
— History of Economics Review

"This biography contains wonderful material for understanding both the strengths and the limits of Hayek's thought as it developed up to 1950. It is a major contribution to Hayek studies."
— The European Journal of the History of Economic Thought