What Kind of Ancestor Do You Want to Be? (Paperback)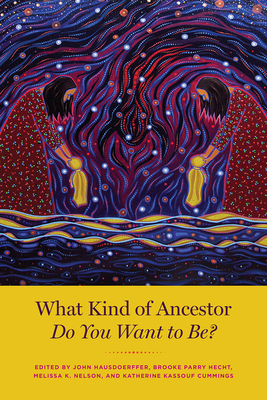 Find us on Bookshop.org to order!
Description
---
As we face an ever-more-fragmented world, What Kind of Ancestor Do You Want to Be? demands a return to the force of lineage—to spiritual, social, and ecological connections across time. It sparks a myriad of ageless-yet-urgent questions: How will I be remembered? What traditions do I want to continue? What cycles do I want to break? What new systems do I want to initiate for those yet-to-be-born? How do we endure? Published in association with the Center for Humans and Nature and interweaving essays, interviews, and poetry, this book brings together a thoughtful community of Indigenous and other voices—including Linda Hogan, Wendell Berry, Winona LaDuke, Vandana Shiva, Robin Kimmerer, and Wes Jackson—to explore what we want to give to our descendants. It is an offering to teachers who have come before and to those who will follow, a tool for healing our relationships with ourselves, with each other, and with our most powerful ancestors—the lands and waters that give and sustain all life.
About the Author
---
John Hausdoerffer is a fellow for the Center for Humans and Nature as well as dean of the School of Environment & Sustainability at Western State Colorado University. He is the author of Catlin's Lament: Indians, Manifest Destiny, and the Ethics of Nature and editor of Aaron Abeyta's Letters from the Headwaters. For more information, visit www.jhausdoerffer.com. He lives in Gunnison, CO.

Brooke Parry Hecht is president of the Center for Humans and Nature.

Melissa K. Nelson (Anishinaabe/Métis [Turtle Mountain Chippewa]) is professor of Indigenous sustainability at Arizona State University and president of the Cultural Conservancy, a Native-led Indigenous rights organization. Most recently, she is coeditor of Traditional Ecological Knowledge: Learning from Indigenous Practices for Environmental Sustainability.

Katherine Kassouf Cummings serves as managing editor at the Center for Humans and Nature and leads Questions for a Resilient Future.
Praise For…
---
"Consisting of a stunning array of essays, poems, and interviews, this collection makes the case that the actions and perspectives of a single person can have a ripple effect across generations of people and nature. . . .  Recommended for readers interested in environmentalism, anthropology, sociology, history, philosophy, and Indigenous peoples in the United States."
— Library Journal

"A wonderfully unclassifiable book, What Kind of Ancestor Do You Want to Be? challenges us to live not just for tomorrow, or for our children, but for many generations in the future. Featuring interviews with and essays by thinkers from across social disciplines—anthropologists, environmental activists, Indigenous leaders, sociologists, and more."
— Book Culture Blog

"This compendium of poems, essays, and dialogues contains the voices of a range of writers and speakers from widely disparate cultures, traditions, and ethnicities, speaking out as they grapple with this question. The question itself causes one to pause, containing, as it does, an implicit instruction to consider one's own ancestors and their/our relationship with the future. Who were they and what has their impact been upon ourselves and the world? How should or might we, ourselves, carry their influence into the future, while adding the work of our own lives to that stream?"
— Resilience.org

"This volume edited by Hausdoerffer, Hecht, Nelson, and Cummings incorporates the work of 47 contributors addressing the urgent and central concern of establishing spiritual, social, and ecological continuity in this uncertain age. Employing diverse textual strategies and genres, including essays, ethnographic interviews, and poems, these authors are intent on communicating the understanding and reactions of indigenous people to the problem of providing guidance to future generations. Arguing that the world is currently in the throes of an ecological, economic, and political crisis, this study invites readers to seek essential new wisdom by exploring the traditional wisdom of indigenous ancestors, so as to embrace the role of "ancestor" in the present. . . .Highly recommended."
— Choice

"What Kind of Ancestor Do You Want to Be? explores the challenge of climate disruption and ecological disaster through poems, essays and interviews. By offering diverse responses from a worldly selection of multicultural voices, the book provokes examination and inspiration. At the same time, the collection delivers no easy answers. Instead, the responses are personal and detailed, thick with values and reflection."
— Gunnison Country Times

"What Kind of Ancestor Do You Want to Be? captures the deep dialogue, continuity, and resonance Indigenous peoples feel and espouse for ancestors, ourselves, our children—with a view for the now and for our very uncertain future. And yet, its audience is at once Indigenous and Universal. Weaving poetry, narrative, interview, essay, and spirit, it is a unique, landmark tapestry. Utterly timely and profoundly urgent."
— Gregory Cajete, author of "Native Science: Natural Laws of Interdependence"

"The questions this book raises are of such staggering importance and relevance today. I cried. I laughed. I smiled. Many reading moments, beautiful or tragic or just deeply human, are difficult to forget."
— Jeffrey J. Kripal, author of "The Flip: Epiphanies of Mind and the Future of Knowledge"