The Most Powerful Idea in the World: A Story of Steam, Industry, and Invention (Paperback)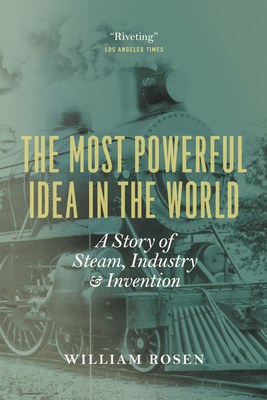 $17.00

Not currently in store. Available to ship from distributor's warehouse.
Description
---
Hardly a week passes without some high-profile court case that features intellectual property at its center. But how did the belief that one could own an idea come about? And how did that belief change the way humankind lives and works?

William Rosen, author of Justinian's Flea, seeks to answer these questions and more with The Most Powerful Idea in the World. A lively and passionate study of the engineering and scientific breakthroughs that led to the steam engine, this book argues that the very notion of intellectual property drove not only the invention of the steam engine but also the entire Industrial Revolution: history's first sustained era of economic improvement. To do so, Rosen conjures up an eccentric cast of characters, including the legal philosophers who enabled most the inventive society in millennia, and the scientists and inventors—Thomas Newcomen, Robert Boyle, and James Watt—who helped to create and perfect the steam engine over the centuries. With wit and wide-ranging curiosity, Rosen explores the power of creativity, capital, and collaboration in the brilliant engineering of the steam engine and how this power source, which fueled factories, ships, and railroads, changed human history.   

Deeply informative and never dull, Rosen's account of one of the most important inventions made by humans is a rollicking ride through history, with careful scholarship and fast-paced prose in equal measure.
About the Author
---
William Rosen spent nearly twenty-five years as editor or publisher at Macmillan, Simon & Schuster, and the Free Press before beginning to research and write his own books.
Praise For…
---
"This book has a crackling energy to it, often as riveting as it is educational."
— Los Angeles Times
"The Most Powerful Idea in the World: A Story of Steam, Industry, and Invention is a sneaky history—ostensibly about the origins of the steam engine, though actually about much more. . . . Rosen is a natural and playful storyteller, and his digressions both inform the narrative and lend it an eccentric and engaging rhythm."
— New York Times
"A fascinating, wide-ranging narrative. . . . A staggering work of epistemological research."
— Kirkus
"Rosen has a facility for the telling anecdote and the quirky aside. Open nearly any page of the book and you'll learn tidbits like that Abraham Lincoln had a love of things mechanical and is the only American president to be awarded a patent (for air chambers that add buoyancy to steam ships and other boats). . . .
The Most Powerful Idea in the World
is enjoyable reading, although it does go into a lot of detail about steam engines, and you will learn more about how they work than you might expect."
— Bill Gates, Best Books of 2013