On the Road: (Penguin Orange Collection) (Paperback)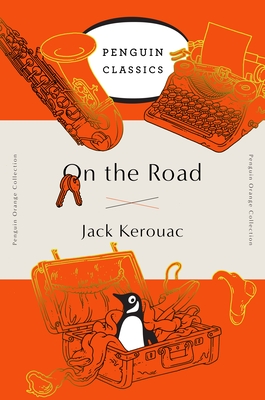 $18.00

Not currently in store. Available to ship from distributor's warehouse.
Description
---
Part of the Penguin Orange Collection, a limited-run series of twelve influential and beloved American classics in a bold series design offering a modern take on the iconic Penguin paperback

Winner of the 2016 AIGA + Design Observer 50 Books | 50 Covers competition

For the seventieth anniversary of Penguin Classics, the Penguin Orange Collection celebrates the heritage of Penguin's iconic book design with twelve influential American literary classics representing the breadth and diversity of the Penguin Classics library. These collectible editions are dressed in the iconic orange and white tri-band cover design, first created in 1935, while french flaps, high-quality paper, and striking cover illustrations provide the cutting-edge design treatment that is the signature of Penguin Classics Deluxe Editions today.

On the Road

Jack Kerouac's masterpiece of the Beat era was first published in 1957 and continues to provide a vital portrait of a generation adrift, as well as inspiration for travelers, dreamers, and artists in every generation that has followed.
About the Author
---
Jack Kerouac was born in Lowell, Massachusetts, in 1922, the youngest of three children in a Franco-American family. He attended local Catholic and public schools and won a scholarship to Columbia University in New York City, where he first met Neal Cassady, Allen Ginsberg, and William S. Burroughs. His first novel, The Town and the City, appeared in 1950, but it was On the Road, published in 1957 and memorializing his adventures with Neal Cassady, that epitomized to the world what became known as the "Beat generation" and made Kerouac one of the most best-known writers of his time. Publication of many other books followed, among them The Dharma Bums, The Subterraneans, and Big Sur. Kerouac considered all of his autobiographical fiction to be part of "one vast book," The Duluoz Legend. He died in St. Petersburg, Florida, in 1969, at the age of forty-seven.
Praise For…
---
"An authentic work of art . . . the most beautifully executed, the clearest and the most important utterance yet made by the generation Kerouac himself named years ago as 'beat,' and whose principal avatar he is."
--Gilbert Millstein, The New York Times 

"On the Road has the kind of drive that blasts through to a large public. . . . What makes the novel really important, what gives it that drive is a genuine new, engaging and exciting prose style. . . . What keeps the book going is the power and beauty of the writing."
--Kenneth Rexroth, San Francisco Chronicle

"One of the finest novels of recent years. . . a highly euphoric and intensely readable story about a group of wandering young hedonists who cross the country in endless search of kicks."
--Leonard Feather, Downbeat