The Idiot: A Novel (Paperback)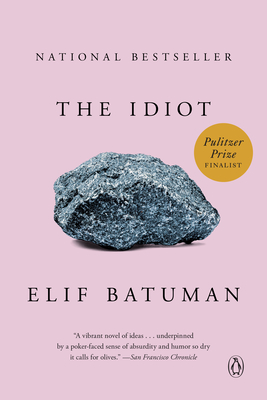 Staff Reviews
---
Exceptional and profound, the Idiot is the kind of book that lingers with you long after you've finished it. It's hard to capture what exactly what this book is about, but it tracks Selin, a Turkish girl from NJ, as she navigates her first year at Harvard. It tackles first love, identity, so on so forth.
What makes this book so engaging, however, isn't the plot. In fact, there isn't much of a narrative at all. Since Selin is studying linguistics, the book is thoroughly preoccupied with words and language. Who cares what Batuman actually saying? Much more interesting is how she says it.
— Madeleine W., Bookseller
April 2017 Indie Next List
---
"Batuman's voice is bitingly original and her protagonist, Selin, brings vitality to the pages through her odd, serious, and slightly sardonic naivete. The honesty of Selin's self-exploration during her first year at Harvard struck a chord with me. Her frank sense of observation as she navigates first love, friendship, and freshman year are a breath of fresh air. I have not read anything quite like The Idiot and I doubt I will again. I loved it."
— Kisky Holwerda (E), Astoria Bookshop, Astoria, NY
Description
---
A New York Times Book Review Notable Book • Finalist for the Pulitzer Prize for Fiction • Longlisted for the Women's Prize for Fiction

"Easily the funniest book I've read this year." —GQ

"Masterly funny debut novel . .  . Erudite but never pretentious, The Idiot will make you crave more books by Batuman." —Sloane Crosley, Vanity Fair

A portrait of the artist as a young woman. A novel about not just discovering but inventing oneself.

The year is 1995, and email is new. Selin, the daughter of Turkish immigrants, arrives for her freshman year at Harvard. She signs up for classes in subjects she has never heard of, befriends her charismatic and worldly Serbian classmate, Svetlana, and, almost by accident, begins corresponding with Ivan, an older mathematics student from Hungary. Selin may have barely spoken to Ivan, but with each email they exchange, the act of writing seems to take on new and increasingly mysterious meanings. 
 
At the end of the school year, Ivan goes to Budapest for the summer, and Selin heads to the Hungarian countryside, to teach English in a program run by one of Ivan's friends. On the way, she spends two weeks visiting Paris with Svetlana. Selin's summer in Europe does not resonate with anything she has previously heard about the typical experiences of American college students, or indeed of any other kinds of people. For Selin, this is a journey further inside herself: a coming to grips with the ineffable and exhilarating confusion of first love, and with the growing consciousness that she is doomed to become a writer.

With superlative emotional and intellectual sensitivity, mordant wit, and pitch-perfect style, Batuman dramatizes the uncertainty of life on the cusp of adulthood. Her prose is a rare and inimitable combination of tenderness and wisdom; its logic as natural and inscrutable as that of memory itself. The Idiot is a heroic yet self-effacing reckoning with the terror and joy of becoming a person in a world that is as intoxicating as it is disquieting. Batuman's fiction is unguarded against both life's affronts and its beauty--and has at its command the complete range of thinking and feeling which they entail.

Named one the best books of the year by Refinery29 • Mashable One • Elle Magazine • The New York Times • Bookpage • Vogue • NPR • Buzzfeed •The Millions
About the Author
---
Elif Batuman has been a staff writer at The New Yorker since 2010. She is the author of The Possessed: Adventures with Russian Books and the People Who Read Them. The recipient of a Whiting Writers' Award, a Rona Jaffe Foundation Writers' Award, and a Paris Review Terry Southern Prize for Humor, she also holds a PhD in comparative literature from Stanford University. The Idiot is her first novel. She lives in Brooklyn, NY.
Praise For…
---
"Easily the funniest book I've read this year." —GQ

"Masterly funny debut novel . .  . Erudite but never pretentious, The Idiot will make you crave more books by Batuman." —Sloane Crosley, Vanity Fair

"Batuman wittily and wisely captures the tribulations of a shy, cerebral teenager struggling with love, friendship, and whether to take psycholinguistics or philosophy of language . . .  Batuman's writing is funny and deadpan, and Selin's observations tease out many relatable human quandaries surrounding friendship, social niceties and first love. The result: a novel that may not keep readers up late turning pages feverishly, but that will quietly amuse and provoke thought." —Huffington Post 

"Batuman's brainy novel is leavened with humor and a heroine incapable of artifice." —People

"Batuman has won a Paris Review Terry Southern Prize for humor, and her book is consistently hilarious. If this is a sentimental education, it's one leavened by a great deal of mordant and delightful humor. . . . At once a cutting satire of academia, a fresh take on the epistolary novel, a poignant bildungsroman, and compelling travel literature, The Idiot' is also a touching and spirited portrait of the artist as a hugely appealing young woman." —Boston Globe 

"The Idiot is an impressive debut with a ridiculous amount of charm and a protagonist so relatable she's almost impossible to forget." —A.V. Club

"The Idiot is wonderful. Batuman, a staff writer at the New Yorker and the author of the sparkling autobiographical essay collection The Possessed (2010), has brave and original ideas about what a 'novel' might mean and no qualms about flouting literary convention. She is endlessly beguiled by the possibilities and shortcomings of language . . . . It is a pleasure to watch Batuman render this process with the wit, sensitivity, and relish of someone who's successfully emerged on the other side of it. For all of her fascination with linguistic puzzle boxes, the author tempers her protagonist's intellectual vertigo with maturity and common sense." —Slate

"Beautifully written first novel . . . Batuman, a staff writer for the New Yorker, has an extraordinarily deft touch when it comes to sketching character . . . The novel fairly brims with provocative ideas about language, literature and culture." —The Associated Press

"A vibrant novel of ideas . . . Like her essays, Batuman's Bildungsroman is a succession of droll misadventures built around chance encounters, peculiar conversations and sharp-eyed observations. Both on campus and abroad, she brings the ever-fresh perspective of a perpetual stranger in a strange land. Her deceptively simple declarative sentences are underpinned by a poker-faced sense of absurdity and humor so dry it calls for olives." —San Francisco Chronicle

"With her smart and deliciously comic 2010 debut, the essay collection The Possessed, Elif Batuman wrote one of the 21st century's great love letters to reading . . . It was a tour de force intellectual comedy encasing an apologia for literary obsession . . . A different—though no less tenuous—variety of possession is explored in The Idiot, Batuman's first novel . . . The book's pleasures come not from the 400-page, low-and-slow smolder of its central relationship, which can at times feel like nothing more than two repressions circling one another; rather, it is Selin herself. Acutely self-conscious but fiercely intelligent, she consistently renders a strange, mordantly funny and precisely observed world . . . Selin's is a consciousness one does not want to part with; by the end of the book, I felt as if I were in the presence of a strange, slightly detached, utterly brilliant friend. 'I kept thinking about the uneven quality of time,' she writes, 'the way it was almost always so empty, and then with no warning came a few days that felt so dense and alive and real that it seemed indisputable that that was what life was, that its real nature had finally been revealed.' Batuman articulates those little moments—of revelation and of emptiness—as well as anyone writing today. The book's legacy seems destined to be one of observation, not character—though when the observer is this gifted, is that really any wonder?" —LA Times

"No one writes funnier or more stylishly about higher education. Nothing written about grad school is as entertaining as her 2010 collection of dispatches from Stanford's comparative-literature department, The Possessed, and her studied satire of Harvard in The Idiot is nearly its equal." —Village Voice

"Batuman's sardonic wit makes for a delectable unfolding of Selin's experience of love, life and language." —BBC.com 

"Batuman's novel is roaringly funny. It is also intellectually subtle, surprising, and enlightening. It is a book fueled by deadpan wonder." —New York Review of Books

"Charming, hilarious and wise debut novel . . . Batuman titled the book The Idiot (after Dostoevsky's famous novel) but it isn't an excoriation of its heroine. Instead, it's a fond reflection. Oh, you poor, silly idiot, she seems to be saying. The Idiot, a novel of innocence and experience, is infused with the generous attitude that Dag Hammarskjöld expressed in his memoir Markings, 'For all that has been, Thank you. For all that is to come, Yes!'" —Dallas News

"The Idiot is half The Education of Henry Adams and half Innocents Abroad. Twain would have savored Selin's first international trip to Paris, Hungary and Turkey . . . Our first footsteps into adulthood are often memorable. Taking them in Selin's shoes is an entertaining, intellectual journey not to be missed." —Shelf Awareness 

"Selin is entrancing—so smart, so clueless, so funny—and Batuman's exceptional discernment,
comedic brilliance, and soulful inquisitiveness generate a charmingly incisive and resonant tale of themessy forging of a self." —Booklist (starred review)

"Wonderful first novel . . . Batuman updates the grand tour travelogue just as she does the epistolary novel and the novel of ideas, in prose as deceptively light as it is ambitious. One character wonders whether it's possible 'to be sincere without sounding pretentious,' and this long-awaited and engrossing novel delivers a resounding yes." —Publishers Weekly (starred review) 

"Selin is delightful company. She's smart enough to know the ways in which she is dumb, and her off-kilter relationship to the world around her is revelatory and, often, mordantly hilarious. Readers who are willing to travel with Selin at her own contemplative pace will be grateful that they did. Self-aware, cerebral, and delightful." —Kirkus Reviews (starred) 

"Not since Don Quixote has a quest for love gone so hilariously and poignantly awry. In spare, unforgettable prose, Batuman the traveller (to Harvard, to mysterious Hungary) recreates for the reader the psychic state of being a child entering language. We marvel and tremble with her at the impossibility and mysterious necessity for human connection that both makes life worthwhile and yet so often strands us all in torment. This book is a bold, unforgettable, un-put-downable read by a new master stylist. Best novel I've read in years." —Mary Karr, author of The Art of Memoir, Lit, and The Liars' Club

"I'm not Turkish, I don't have a Serbian best friend, I'm not in love with a Hungarian, I don't go to Harvard. Or do I? For one wonderful week, I got to be this worldly and brilliant, this young and clumsy and in love. The Idiot is a hilariously mundane immersion into a world that has never before received the 19th Century Novel treatment. An addictive, sprawling epic; I wolfed it down." —Miranda July, author of The First Bad Man and It Chooses You

"Elif Batuman's novel not only captures the storms and mysteries and comedies of youth but, in its wonderfully sensitive portrait of a young woman adventuring across languages and cultures, it brilliantly draws to our attention a modern politics of friendship. This is a remarkable book." —Joseph O'Neill, author of The Dog and Netherland
 
"Elif Batuman surely has one of the best senses of humour in American letters. The pleasure she takes in observing the eccentricities of each of her characters makes for a really refreshing and unique Bildungsroman: one more fascinated with what's going on around and outside the bewildered protagonist, than what's going on inside her." —Sheila Heti, author of How Should a Person Be? and Ticknor