Annie's The Cookbook: Recipes Everybunny Will Love (Paperback)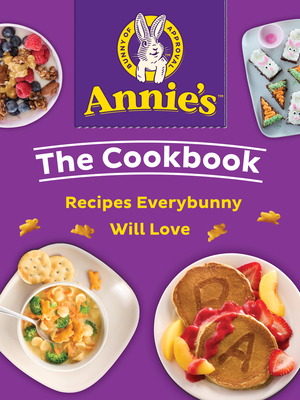 Description
---
From Annie's Homegrown, the #1 national organic kids' food brand, a joyful cookbook of 70 easy, comforting, yummy recipes for breakfast, snacks, lunch, or dinner and even dessert that the whole family will love.
Annie's Homegrown has a mission to cultivate a healthier, happier world by spreading goodness through nourishing foods, like their Mac & Cheese and Bunny Grahams—and now in this cookbook of 70 yummy and comforting recipes. Chapters include fun dishes that are sure to be beloved by every bunny—kids and adults alike:
Fruity Bunny Cinnamon Rolls
Skillet Breakfast Mac & Cheese Bake
Watermelon Birthday Cake Shakes
Veggie Nuggets with Barbecue-Hummus Dipping Sauce
Beef and Veggie Lasagna
Mac & Double Cheese Sticks
Frozen Cocoa Bunny-Banana Pops
Raspberry-Banana Split Parfaits
Bunny and Carrot Brownies
Each chapter includes a feature to add more joy to cooking and eating, including Making Breakfast Together, Bento Boxes for Joyful Lunch Surprises, Yummy Ways to Change Up Mac & Cheese, and Fun Things to Do Between Dinner and Dessert. And throughout, you'll find Farm to Fork Facts that chronicle healthfully grown food and its journey from the farmers who grow our ingredients to the dishes on our table.