Sorrow and Bliss: A Novel (Hardcover)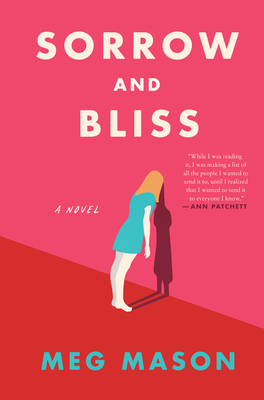 Staff Reviews
---
Sorrow and Bliss by Meg Mason is one of the most human books I have read in a long time. When she was 17 years old, Martha had a metaphorical bomb go off in her head. Since then, she's had an extremely difficult time being a person. She pushes most everyone away with her snark and too-honest feelings, has bouts of intense rage, and has days where she can't get out of bed. This unnamed mental illness has ruled her life, and no matter what she does or the treatment she receives, she's unable to find relief. Through these pages, Mason has created a story that is so heartbreaking and simultaneously hopeful that anyone who reads it will be left changed. The themes discussed in this book, such as self-destruction/love, empathy, loss, and selflessness, are universal and eternally important. Sorrow and Bliss is full of dark humor, hard truths, intensely human characters, sharp prose, and a story that will stick with you. I know it has for me. 
— Hannah Z., Bookseller
Description
---
"Brilliantly faceted and extremely funny. . . . While I was reading it, I was making a list of all the people I wanted to send it to, until I realized that I wanted to send it to everyone I know." — Ann Patchett
"Improbably charming...will have you chortling and reading lines aloud." —PEOPLE
The internationally bestselling, compulsively readable novel—spiky, sharp, intriguingly dark, and tender—that combines the psychological insight of Sally Rooney with the sharp humor of Nina Stibbe and the emotional resonance of Eleanor Oliphant Is Completely Fine.
Martha Friel just turned forty. Once, she worked at Vogue and planned to write a novel. Now, she creates internet content. She used to live in a pied-à-terre in Paris. Now she lives in a gated community in Oxford, the only person she knows without a PhD, a baby or both, in a house she hates but cannot bear to leave. But she must leave, now that her husband Patrick—the kind who cooks, throws her birthday parties, who loves her and has only ever wanted her to be happy—has just moved out.
Because there's something wrong with Martha, and has been for a long time. When she was seventeen, a little bomb went off in her brain and she was never the same. But countless doctors, endless therapy, every kind of drug later, she still doesn't know what's wrong, why she spends days unable to get out of bed or alienates both strangers and her loved ones with casually cruel remarks. 
And she has nowhere to go except her childhood home: a bohemian (dilapidated) townhouse in a romantic (rundown) part of London—to live with her mother, a minorly important sculptor (and major drinker) and her father, a famous poet (though unpublished) and try to survive without the devoted, potty-mouthed sister who made all the chaos bearable back then, and is now too busy or too fed up to deal with her. 
But maybe, by starting over, Martha will get to write a better ending for herself—and she'll find out that she's not quite finished after all.
About the Author
---
Born in New Zealand, MEG MASON began her career at the Financial Times in London before switching to The Times to write on lifestyle, parenting and humour. After relocating to Australia, she continued to write for a range of publications that include the Sydney Morning Herald, Cosmopolitan and GQ. She lives with her husband and two daughters in Sydney.
Praise For…
---
"Sorrow and Bliss is a brilliantly faceted and extremely funny book about depression that engulfed me in the way I'm always hoping to be engulfed by novels. While I was reading it, I was making a list of all the people I wanted to send it to, until I realized that I wanted to send it to everyone I know."
— Ann Patchett

"Completely brilliant, I loved it. I think every girl and woman should read it."
— Gillian Anderson

"An incredibly funny and devastating debut. . . . enlivened, often, by a madcap energy. Yet it still manages to be sensitive and heartfelt, and to offer a nuanced portrayal of what it means to try to make amends and change, even when that involves 'start[ing] again from nothing.'"
— The Guardian

"Mason excels in her heartbreaking U.S. debut, an account of a woman's self-discovery amid her struggle with mental illness. . . . Witty and stark, Martha's emotionally affecting story will delight fans of Sally Rooney."
— Publishers Weekly (starred review)

"Exploring the multifaceted hardships of mental illness and the frustrating inaccuracy of diagnoses, medications, and treatments, Sorrow and Bliss is darkly comic and deeply heartfelt . . . Martha's voice is acerbic, witty, and raw."
— Booklist (starred review)

"Meg Mason's unflagging comic impulses drive this novel about the havoc a woman's mental illness wreaks on her marriage."
— Shelf Awareness (starred review)

"Brutal, tender, funny, this novel—a portrait of love in all of its many incarnations—came alive for me from the very first page. I saw myself here. I saw the people I love. I am changed by this book."
— Mary Beth Keane, New York Times bestselling author of Ask Again, Yes

"A truly comic novel about love and the despair of depression. It's a rare and beautiful thing when an author can break your heart with humor; it's also the quality I admire most in a writer." 
— Cynthia D'Aprix Sweeney, New York Times bestselling author of The Nest and Good Company 

"A quiet and achingly beautiful love story. . . . LOVED it. Masterfully written. And powerful."
— Elin Hilderbrand

"Sorrow and Bliss is hilarious, haunting, and utterly captivating. Meg Mason has created a heroine as prickly as Bernadette in Where'd You Go, Bernadette. Her humor is as arch and wise as the best work of Joan Didion and Rachel Cusk, yet completely original. What a thrilling new voice!"
— Amanda Eyre Ward, New York Times bestselling author of The Jetsetters

"Funny and tragic."
— Jojo Moyes

"I really loved Meg Mason's SORROW AND BLISS, which is sometimes very sad and often very funny and ultimately hopeful."
— Linda Holmes, New York Times bestselling author of Evvie Drake Starts Over, via Twitter

"So dark, so funny, so true. You will see your sad, struggling, triumphant self in this deeply affecting novel. What a debut."
— Laura Zigman, author of Separation Anxiety

"A gorgeous, heart-rending book."
— Flynn Berry, New York Times bestselling author of Northern Spy

"SORROW AND BLISS is brilliant. A comic gem that will also break your heart."
— Julia Claiborne Johnson, author of Be Frank With Me and Better Luck Next Time

"Evocative and hopeful."
— Book Riot, "5 Contemporary Literary Fiction Books That Are Game-Changers"

"Sorrow and Bliss is a thing of beauty.  Astute observations on marriage, motherhood, family, and mental illness are threaded through a story that is by turns devastating and restorative. Every sentence rings true. I will be telling everyone I love to read this book."
— Sara Collins, Costa First Novel Award-winning author of The Confessions of Frannie Langton 

"Sharp yet humane, and jaw-droppingly funny, this is the kind of novel you will want to press into the hands of everyone you know. Mason has an extraordinary talent for dialogue and character, and her understanding of how much poignancy a reader can take is profound. A masterclass on family, damage and the bonds of love: as soon as I finished it, I started again."
— Jessie Burton, New York Times bestselling author of The Miniaturist 

"Patrick Melrose meets Fleabag. Brilliant."
— Clare Chambers, author of Small Pleasures

"Examines with pitiless clarity the impact of the narrator's mental illness on her closest relationships. . . . Mason brings the reader into a deep understanding of Martha's experience without either condescending to her or letting her off too easily. . . . An astute depiction of life on the psychic edge."
— Kirkus Reviews

"The book is a triumph. A brutal, hilarious, compassionate triumph."
— Alison Bell, cocreator and star of The Letdown

"This is a romance, true, but a real one. It's modern love up against the confusing, sad aches of mental illness, with all its highs, lows, humour and misery. Comparisons to Sally Rooney will be made, but Mason's writing is less self-conscious than Rooney's, and perhaps more mature. Her character work is outstanding, and poignant—the hairline fractures, contradictions and nuances of the middle-class family dynamic are painstakingly rendered with moving familiarity and black humour, resulting in a combination as devastating and sharply witty as Phoebe Waller-Bridge's Fleabag."
— Bookseller+Publisher

"Improbably charming . . . will have you chortling and reading lines aloud."
— People