The Nesting Dolls: A Novel (Hardcover)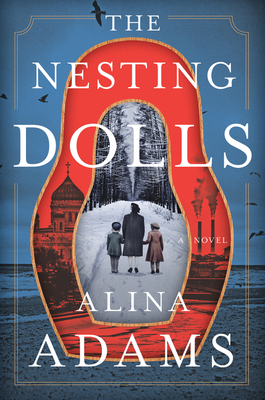 $27.99
Email or call for price.
Description
---
Spanning nearly a century, from 1930s Siberia to contemporary Brighton Beach, a page turning, epic family saga centering on three generations of women in one Russian Jewish family—each striving to break free of fate and history, each yearning for love and personal fulfillment—and how the consequences of their choices ripple through time.
Odessa, 1931. Marrying the handsome, wealthy Edward Gordon, Daria—born Dvora Kaganovitch—has fulfilled her mother's dreams. But a woman's plans are no match for the crushing power of Stalin's repressive Soviet state. To survive, Daria is forced to rely on the kindness of a man who takes pride in his own coarseness.
Odessa, 1970. Brilliant young Natasha Crystal is determined to study mathematics. But the Soviets do not allow Jewish students—even those as brilliant as Natasha—to attend an institute as prestigious as Odessa University. With her hopes for the future dashed, Natasha must find a new purpose—one that leads her into the path of a dangerous young man.
Brighton Beach, 2019. Zoe Venakovsky, known to her family as Zoya, has worked hard to leave the suffocating streets and small minds of Brighton Beach behind her—only to find that what she's tried to outrun might just hold her true happiness.
Moving from a Siberian gulag to the underground world of Soviet refuseniks to oceanside Brooklyn, The Nesting Dolls is a heartbreaking yet ultimately redemptive story of circumstance, choice, and consequence—and three dynamic unforgettable women, all who will face hardships that force them to compromise their dreams as they fight to fulfill their destinies. 
About the Author
---
Alina Adams is the New York Times bestselling author of soap opera tie-ins, romance novels, and figure skating mysteries. She has worked as a creative content producer for As the World Turns and Guiding Light; was part of the All My Children and One Life to Live reboots; and has been a writer, producer, and skating researcher for ABC, NBC, TNT, ESPN and Lifetime TV. Alina immigrated to the United States with her family from Odessa, USSR, in 1977. She lives in New York City with her husband, Scott, and their three children. Visit her online at www.AlinaAdams.com.

Praise For…
---
"The Nesting Dolls is a vividly rendered, sweeping historical novel. Alina Adams deftly portrays three generations of women, beautifully weaving their coming of age stories about love, sacrifice, family, and ultimately survival. I absolutely devoured this compulsively readable gem of a novel." — Jillan Cantor, USA Today bestselling author of The Lost Letter and In Another Time
"A moving saga of three generations of women determined to triumph over the forces of history no matter the cost. The Nesting Dolls is memorable story of courage that is both inspiring and bittersweet." — David R. Gillham, New York Times bestselling author of City of Women and Annelies
"Adams's finely detailed historical romance . . .  follows five generations of headstrong, passionate Jewish women. . . . The author's wry Soviet-Jewish humor enlivens the well-developed characters, who make fatal mistakes as well as selfless sacrifices. This is a satisfying, life-affirming saga." — Publishers Weekly
"Mesmerizing . . . Adams' sweeping tale offers captivating explorations of her characters and their complexities, particularly when it comes to their struggles between the pull of the heart and the realities in which they live." — Booklist
"A fascinating multigeneration tale . . .  Adams combines rich historical detail with an engrossing narrative." — World Magazine
"Utterly rich and satisfying. The Nesting Dolls by Alina Adams takes us on the complicated path through the fascinating history of Communist Russia and Russian immigration to the United States in that rarest of literary treats: a multi-generational saga in which each character feels true, each turn of circumstances rings both surprising and inevitable, and the final page leaves you wanting to turn back to the first and read it again." — Meg Waite Clayton, New York Times bestselling author of The Last Train to London