The Lost Rainforest #3: Rumi's Riddle (Paperback)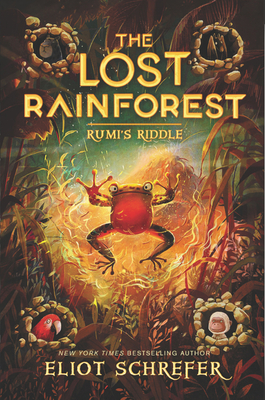 $7.99

Not currently in store. Available to ship from distributor's warehouse.
Description
---
The action-packed conclusion to the Lost Rainforest series by award-winning and bestselling author Eliot Schrefer delivers one last thrilling adventure as the shadowwalkers are pushed to the limit to protect Caldera. Perfect for fans of Warriors and Spirit Animals.
When the shadowwalkers were victorious in their battle against the Ant Queen, they hoped their work to save Caldera was done. But the rainforest has begun to rumble.
Rumi, a scholarly tree frog who can control the wind, must bring his band of animal friends to face the greatest danger they've yet encountered—the giant volcano beneath the jungle itself. While the volcano roars, rumors of a mysterious evil blanket Caldera—the Elemental of Darkness has emerged and is building a legion of followers.
When the shadowwalkers are forced to divide and conquer, Rumi finds himself an unlikely leader and must grapple with his own secrets before he can unlock the full scope of his magical powers. Can Rumi rally the shadowwalkers to save their rainforest home?
About the Author
---
Eliot Schrefer is a New York Times bestselling author, has twice been a finalist for the National Book Award in Young People's Literature, and has won the Green Earth Book Award and the Sigurd F. Olson Nature Writing Award for Children's Literature. His novels include the Lost Rainforest series, Endangered, Threatened, Rescued, Orphaned, and two books in the Spirit Animals series. He lives in New York City, is on the faculty of the Hamline University and Fairleigh Dickinson University MFA in creative writing programs, and reviews books for USA Today. Visit him online at www.eliotschrefer.com.
Praise For…
---
PRAISE FOR GOGI'S GAMBIT: ★ "The second installment in this fast-paced fantasy is enhanced by the richly detailed rainforest setting... a tale about how to celebrate differences and still find unity. Another knockout in a series that will appeal to nature lovers, animal lovers, and fans of magical adventure."
— Kirkus Reviews (starred review)

★"Schrefer's second book in the Lost Rainforest series continues the enthralling fantasy adventures of this eclectic group of animals and hints at where the next threat to the rain forest will come from. Fans of Mez's Magic and Katherine Applegate's Endling #1: The Last (2018) will eagerly devour Gogi's Gambit."
— ALA Booklist (starred review)

PRAISE FOR MEZ'S MAGIC: "Unlike anything I've read. Eliot Schrefer has mined the richness and depths of his setting to find a deeper magic, immersing us in a world that is at once complex, dangerous, beautiful, and ultimately demanding of our protection. A thrilling start to an exceptional new series."
— Soman Chainani, New York Times bestselling author of The School for Good and Evil series

★ "While the story is pure fast-paced fantasy, the underlying issues are real. Ignorance among the species, racism, and intolerance of differences are rampant. An author's note highlights the beauty and importance of the rainforest. Magic with depth in this new series stunner."
— Kirkus Reviews (starred review)

"Just right for middle grade readers who want an engrossing fantasy adventure."
— School Library Journal

"With a memorable, quick-bantering cast, this kickoff to the Lost Rainforest series, a playful departure from Schrefer's ape novels, brings fresh perspective to the magical animal subgenre. And, despite the fantasy setup, readers will come away learning quite a bit about this ecosystem and its inhabitants."
— Publishers Weekly

"Mez's Magic is packed with as many jokes as fast-paced fight scenes. And Schrefer has created a stock of memorable characters—including Gogi, a monkey with self-esteem issues; Rumi, a delightfully urbane tree frog; and a manic, pixie-dream bat named Lima."
— New York Times Book Review

PRAISE FOR RESCUED: 
★"[T]he portrayal of Raja as an intelligent, complex individual is gripping and heartbreaking. Schrefer continues to be a vital voice for wildlife conservation and ape empathy."
— Publishers Weekly (starred review)

"Schrefer, a well-deserving two-time National Book Award finalist, approaches the conundrums and difficulties of our relationship with apes with sensitivity and finesse... enthralling, fast-paced, adventurous and deeply touching."
— New York Times Book Review

"This is a book that combines skillful interpretation of orangutan character, the cruelty inherent in keeping apes as pets, and the plight of the wild orangutans. Eliot has created unforgettable characters in Raja, the orphaned ape and his human 'brother,' John. Moving, fascinating and eye opening."
— Dr. Jane Goodall

"Schrefer beautifully shows the humanity we share with all living things."
— School Library Journal

"Well researched and emotionally rich."
— The Horn Book