Guards! Guards!: A Novel of Discworld (Mass Market)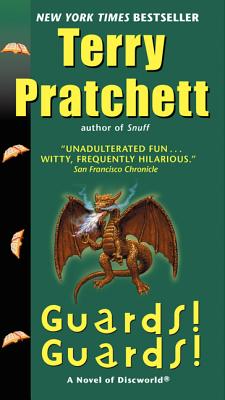 Other Books in Series
This is book number 8 in the Discworld series.
Staff Reviews
---
An excellent jumping off point for Terry Pratchett's prolific Discworld series! In this book we follow Sam Vimes and the City Watch as they attempt to solve a mystery and save the city of Ankh-Morpork. Pratchett's writing is witty and poignant, culminating in a story you won't be able to put down!
— Katherine N., bookseller
If the Monty Python troupe and the ensembles of Simon Pegg's Cornetto trilogy suddenly found themselves stranded in "The Hobbit," you might approximate "Guards! Guards!" There's a plot, sure. Something about magic and dragons and a drunk captain of the guard. But really all you need to know is the bustling cesspit--I mean, metropolis of Ankh-Morpork is facing a new kind of problem. Nothing to do with the toxic sewer they call a river. Or the Assassins Guild. Everyone and everything is performing as expected. Outside of the occasional incineration, of course. And the unlicensed thieving. And the missing book on summoning dragons. But Captain Vimes, Sergeant Colon, Nobby, and Carrot are on the case. Figuratively speaking, that is.
--McKenna G, Manager
— From
Staff Picks
Description
---
Welcome to Guards! Guards!, the eighth book in Terry Pratchett's legendary Discworld series.
Long believed extinct, a superb specimen of draco nobilis ("noble dragon" for those who don't understand italics) has appeared in Discworld's greatest city. Not only does this unwelcome visitor have a nasty habit of charbroiling everything in its path, in rather short order it is crowned King (it is a noble dragon, after all...). How did it get there? How is the Unique and Supreme Lodge of the Elucidated Brethren of the Ebon Night involved? Can the Ankh-Morpork City Watch restore order – and the Patrician of Ankh-Morpork to power?
Magic, mayhem, and a marauding dragon...who could ask for anything more?
About the Author
---
Sir Terry Pratchett was the internationally bestselling author of more than thirty books, including his phenomenally successful Discworld series. His young adult novel, The Amazing Maurice and His Educated Rodents, won the Carnegie Medal, and Where's My Cow?, his Discworld book for "readers of all ages," was a New York Times bestseller. His novels have sold more than seventy five million (give or take a few million) copies worldwide. Named an Officer of the British Empire "for services to literature," Pratchett lived in England. He died in 2015 at the age of sixty-six.