Hamlet's BlackBerry: Building a Good Life in the Digital Age (Paperback)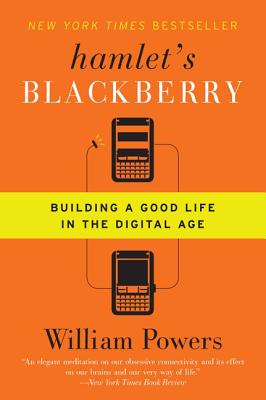 $14.99

Not currently in store. Available to ship from distributor's warehouse.
Description
---
"A brilliant and thoughtful handbook for the Internet age." —Bob Woodward
"Incisive ... Refreshing ... Compelling." —Publishers Weekly
A crisp, passionately argued answer to the question that everyone who's grown dependent on digital devices is asking: Where's the rest of my life? Hamlet's BlackBerry challenges the widely held assumption that the more we connect through technology, the better. It's time to strike a new balance, William Powers argues, and discover why it's also important to disconnect. Part memoir, part intellectual journey, the book draws on the technological past and great thinkers such as Shakespeare and Thoreau. "Connectedness" has been considered from an organizational and economic standpoint—from Here Comes Everybody to Wikinomics—but Powers examines it on a deep interpersonal, psychological, and emotional level. Readers of Malcolm Gladwell's The Tipping Point and Outliers will relish Hamlet's BlackBerry.
About the Author
---
Award-winning media critic William Powers has written for the Atlantic, the New York Times, the Washington Post, and McSweeney's, among other publications. He lives on Cape Cod with his wife, the author Martha Sherrill, and their son.
Praise For…
---
"[An] elegant meditation on our obsessive connectivity and its effect on our brains and our very way of life."
— Laurie Winer, New York Times Book Review

"Powers mounts a passionate but reasoned argument for 'a happy balance'. . . . [He] is a lively, personable writer who seeks applicable lessons from great thinkers of the past. . . . Lucid, engaging prose and [a] thoughtful take on the joys of disconnectivity."
— Heller McAlpin, Christian Science Monitor

"A brilliant and thoughtful handbook for the Internet age—why we have this screen addiction, its many perils, and some surprising remedies that can make your life better."
— Bob Woodward

"In this delightfully accessible book, Powers asks the questions we all need to ask in this digitally driven time. And teaches us to answer them for ourselves."
— Maryanne Wolf, author of Proust and the Squid

"Benjamin Franklin would love this book. He knew the power of being connected, but also how this must be balanced by moments of reflection. William Powers offers a practical guide to Socrates' path to the good life in which our outward and inward selves are at one."
— Walter Isaacson, author of Einstein: His Life and Universe and Benjamin Franklin: An American Life

"Always connected. Anytime. Anyplace. We know it's a blessing, but we're starting to notice that it's also a curse. In Hamlet's Blackberry, William Powers helps us understand what being 'connected' disconnects us from, and offers wise advice about what we can do about it…. A thoughtful, elegant, and moving book."
— Barry Schwartz, author of The Paradox of Choice: Why More Is Less