Keep It Seasonal: Soups, Salads, and Sandwiches (Hardcover)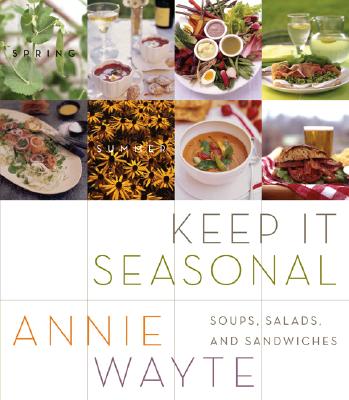 Email orders@tridentbookscafe.com or call for price
Description
---
In our increasingly busy lives, meals need to be fast, healthy, and light. In Keep It Seasonal, acclaimed chef Annie Wayte offers 100 recipes, each with a spectacular color photograph of the finished dish, for simple soups, salads, and sandwiches organized by season so that home cooks can make the most of fresh, available produce. Keep It Seasonal is the ideal cookbook for those who shop at farmer's markets, Whole Foods, and Wild Oats.
Why purchase asparagus out of season when the prices are sky high? Why buy strawberries in winter when they are tasteless and full of water? Not only is produce more affordable when it is in season, but its quality and nutritional content are at their peak. In Keep It Seasonal, chef Annie Wayte awakens cooks to ingredients that are truly fresh, local, and in season, and explains why buying locally grown foods is better than buying organic food trucked in from thousands of miles away.
Within the four seasonal chapters, the recipes are organized into three sections: soups, salads, and sandwiches. Home cooks can mix and match with recipes such as Fresh Pea Soup with Morels, Crispy Prosciutto and Leek Salad with Mustard Dressing, and Grilled Spicy Lamb Sandwiches on Flat Bread with Pistachio Relish (spring), or Squash Soup with Roasted Chestnuts and Pancetta, Pomegranate Glazed Quail with Cinnamon and Raisin Tabbouleh, and Gorgonzola, Pear, and Honey Open Sandwiches (autumn). The recipes are simple and easy to prepare because the fresh ingredients speak for themselves, and each includes a full–color photo of the finished dish.
About the Author
---
Annie Wayte began her professional cooking career in the haute cuisine kitchen of London's Mirabelle. She went on to work as a chef at the Michelin-starred Rue St. Jacques and at London's renowned Clarke's. In 1994, Annie opened Nicole's on London's New Bond Street and replicated it in 1999 in New York City. She launched the trendy Notting Hill cafe 202, a New York version of which opened in May 2005. She divides her time between London and New York.
Praise For…
---
"Annie Wayte tempts readers to eat seasonally grown local foods...
— Kirkus Reviews